Employment in detail - quarterly statistics
This is the stable Version.
Data extracted in February 2022
Planned article update: October 2022
In the third quarter of 2021, 9 % of employed people in the EU aged 20-64 were own-account workers and 4 % were employers while 86 % were employees.
At EU level, almost two thirds of skilled agricultural, forestry and fishery workers (65 %) and almost one third of managers (31 %) were self-employed in the third quarter of 2021.
In the third quarter of 2021, the gender employment gap in the EU was narrowest for the second generation of migrants having at least one parent born in a EU country (3.3 p.p.).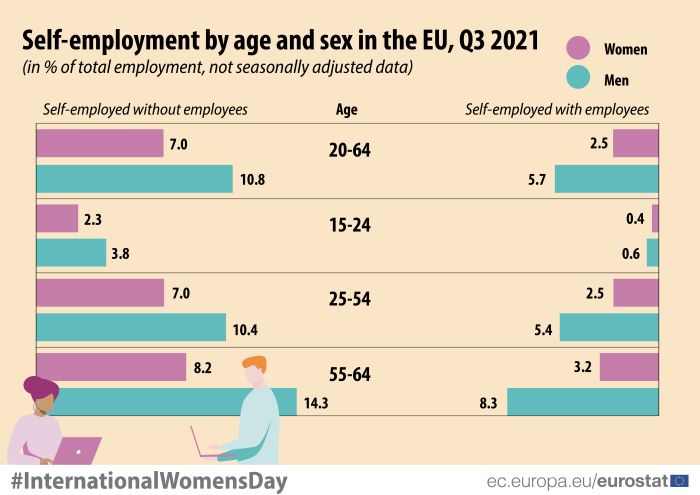 In the first three quarters of 2021, the health measures due to the COVID-19 pandemic were progressively lifted before the new COVID variant's arrival. At that time, the economy started its recovery phase and many EU governments announced the upcoming temporary, partial or complete, cancellation of the specific working arrangements or other financial support aimed at mitigating the effects of the COVID-19 pandemic on employment.
In light of this situation, this article looks at the short- and long-term development of the number of employed people by professional status (with namely a distinction between self-employed people with and without employees) to identify the consequences of the crisis on self-employment and of the halt in the financial support provided to the enterprises across the EU Member States. It also develops a complete and relevant profile of self-employed people in the EU according to sex, age and educational attainment level, and explores the sectors of economic activity and groups of occupations with the largest share of self-employed people.
The situation of people combining several jobs, working outside their country of residence or having a migrant background is also looked at, in order to enrich the analysis of employed people at EU and country level.
The present article complements the article on employment; both articles use the quarterly results of the European Union Labour Force Survey (EU-LFS) and are part of the publication Labour market in the light of the COVID-19 pandemic.
Note: Given the level of detail, the data used in this article are not seasonally adjusted.
LFS main indicators (t_lfsi)

Population, activity and inactivity - LFS adjusted series (t_lfsi_act)
Employment - LFS adjusted series (t_lfsi_emp)
Unemployment - LFS adjusted series (t_une)

LFS series - Detailed annual survey results (t_lfsa)
LFS series - Specific topics (t_lfst)
LFS main indicators (lfsi)

Employment and activity - LFS adjusted series (lfsi_emp)
Unemployment - LFS adjusted series (une)
Labour market transitions - LFS longitudinal data (lfsi_long)

LFS series - Detailed quarterly survey results (from 1998 onwards) (lfsq)
LFS series - Detailed annual survey results (lfsa)
LFS series - Specific topics (lfst)
LFS ad-hoc modules (lfso)

Publications
ESMS metadata files and EU-LFS methodology