EU trade in COVID-19 related products
Data extracted in March 2021.
Planned article update: April 2022.
Tweet
China, Switzerland, the United Kingdom and the United States were the largest EU trade partners for COVID-19 related products in 2020.
Tweet
Protective garments (including facemasks) and oxygen equipment were the most imported COVID-19 related products into the EU in 2020.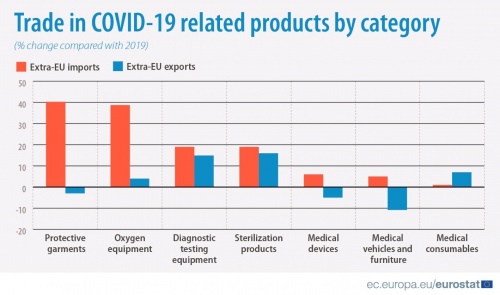 To help prevent the spread of the COVID-19 pandemic, countries around the world have taken a variety of restrictive measures, which have negatively affected international trade in goods, with a few noteworthy exceptions. Among these are goods used in direct response to the COVID-19 pandemic: sterilisation products (incl. disinfectants), medical vehicles and furniture, protective garments, diagnostic testing equipment, medical devices, oxygen therapy equipment and medical consumables, or so called 'COVID-19 related products'. In this article, imports and exports of these goods are presented by product group and compared over time with other similar products, across EU Member States and by main trade partner.
Footnote
↑ This graph compares COVID-19 related products with products in the same chapter of the Harmonised System (HS) product classification, i.e. they are compared with other similar products that are however not directly used in response to the COVID-19 pandemic.
It should be noted that most COVID-19 related products cannot be precisely identified and they are grouped together with products not specific to COVID-19. Nevertheless, some trends can be observed.
These products were selected based on an indicative list elaborated by the Commission in the framework of Commission Decision N° C(2020) 2146, on the basis of a joint WCO/WHO list for COVID-19 medical supplies. More information can be found in this document.
International trade in goods - long-term indicators (t_ext_go_lti)
International trade in goods - short-term indicators (t_ext_go_sti)
International trade in goods - aggregated data (ext_go_agg)

International trade in goods - long-term indicators (ext_go_lti)
International trade in goods - short-term indicators (ext_go_sti)

International trade in goods - detailed data (detail)
EU trade since 1988 by SITC (DS-018995)