European Statistics Day
On 20 October 2016, the European Statistics Day is celebrated for the first time. Following up on the 2015 World Statistics Day, the event will continue to focus on the global theme "Better data. Better lives."
Eurostat is celebrating the day with a short video, a news release and a special spotlight page on our statistics.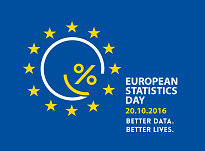 If you have any comments or would like to give us your feedback on this infographic, please contact us via estat-web-content@ec.europa.eu.
If you have questions on Eurostat statistics, please contact our support team. Contact details can be found here.