Back
Eurostat regional yearbook 2013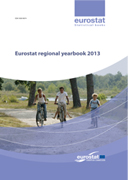 Eurostat regional yearbook 2013
Statistical information is an important tool for understanding and quantifying the impact of political decisions in a specific territory or region. The Eurostat regional yearbook 2013 gives a detailed picture relating to a broad range of statistical topics across the regions of the Member States of the European Union (EU), as well as the regions of EFTA and candidate countries. Each chapter presents statistical information in maps, figures and tables, accompanied by a description of the main findings, data sources and policy context. These regional indicators are presented for the following 11 subjects: economy, population, health, education, the labour market, structural business statistics, tourism, the information society, agriculture, transport, and science, technology and innovation. In addition, four special focus chapters are included in this edition: these look at European cities, the definition of city and metro regions, income and living conditions according to the degree of urbanisation, and rural development.
The
Statistical Atlas
is an interactive map viewer, which contains statistical maps from the Eurostat regional yearbook and provides the possibility to download these maps as high-resolution PDFs.
The most recent version of the Eurostat regional yearbook is available in
Statistics Explained
, which also contains translations of all of the articles in German and French as well as three articles in the 18 official Community languages.
Electronic format
Download Publication
(EN)
Release date: 07/10/2013
Additional information
Product Code: KS-HA-13-001
ISBN: 978-92-79-29982-7
ISSN: 1830-9674
Digital Object Identifier (DOI): 10.2785/44451
Theme: General and regional statistics
Collection: Statistical books