Back
Agriculture - Main statistics 2005-2006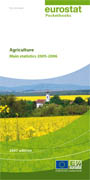 Agriculture - Main statistics 2005-2006
The pocketbook Agricultural Statistics presents selected tables and graphs providing an overview on developments and the situation in the agricultural sector of the European Union. The most recent data are presented here (reference years 2005 and 2006, mostly) showing the situation in the 27 Member States and at the European level (EU-27 and EU-25 aggregates).
More particularly, this edition provides a good insight into the complete results of the Farm Structure Survey conducted in 2005. Country reports were published regularly on the Eurostat website under the form of 'Statistics in Focus' as soon as the data were available at Eurostat. This publication is the only one showing the results at the European level.

Order your paper version free of charge!
Electronic format
Download Publication
(EN)
Release date: 13/07/2007
Additional information
Product Code: KS-ED-07-002
ISBN: 92-79-02955-X
ISSN: 1830-463X
Theme: Agriculture, forestry and fisheries
Collection: Pocketbooks