Back
EU legislation on the 2021 population and housing censuses — explanatory notes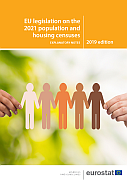 EU legislation on the 2021 population and housing censuses — explanatory notes
Censuses provide a precise and geographically detailed account of population characteristics. This makes them a rich source for analysis, providing key inputs for policy, administration and research. At the EU level, national results are of greater value if they can be compared between Member States, so the EU has been taking continuous steps to harmonise outputs.

The 2021 round also comes at a time of fundamental transition: administrative data sources have become the backbone of the next census in most Member States. This brings efficiency gains, leading to more powerful census systems and addressing fast-evolving user expectations, where the regional detail is increasingly important. A dedicated law to publish key census topics on an EU-wide 1 km² grid is a major innovation here. It will allow for much more flexible analysis, even at cross-border level, tailored to research or policy needs.

This publication explains the EU legislation for the 2021 census round, with a focus on the new grid data.
Electronic format
Download Publication
(EN)
Release date: 15/03/2019
Additional information
Product Code: KS-GQ-18-010
ISBN: 978-92-79-96918-8
ISSN: 2315-0815
Digital Object Identifier (DOI): 10.2785/513433
Theme: Population and social conditions
Collection: Manuals and guidelines