Today, Eurostat released the May edition of the interactive European Statistical Recovery Dashboard.
The dashboard contains monthly and quarterly indicators from a number of statistical areas relevant for tracking the economic and social recovery from the COVID-19 pandemic, across countries and time.
This month, we have added an indicator providing statistical information on quarterly greenhouse gas emissions. It measures emissions of carbon dioxide (CO2), methane (CH4), nitrous oxide (N2O) and fluorinated gases due to economic activities of resident businesses, families and governments.

May highlights: EU economy continues to grow and excess mortality declines, but economic sentiment drops below its pre-pandemic level
The EU economy continued to grow in Q1 2022, but at a slightly slower pace compared with the previous quarter. The Russian war of aggression against Ukraine is weighing on Europe's economy, worsening supply bottlenecks, pushing up consumer prices, and weakening business and consumer confidence.
In March 2022, industrial production and retail trade dropped but remained above their pre-pandemic levels. Inflation showed signs of a further rise, but at a slower pace, across EU Member States in April 2022.
EU economic sentiment fell for the second month in a row in April 2022, dropping below its pre-pandemic level. This decline was driven by worsening confidence in industry, retail trade, construction, and among consumers, while the confidence indicator remained unchanged in services.
As regards the EU labour market and population, in March 2022 the unemployment rate dropped further below its pre-pandemic level and excess mortality rate declined. Excess mortality, however, varied considerably across Member States.
The recovery dashboard has been enlarged with one new environmental indicator on greenhouse gas emissions by the economy. It covers emissions of carbon dioxide, methane, nitrous oxide and fluorinated gases into the atmosphere due to the economic activities of resident units, namely businesses, families and government. According to this indicator, in Q4 2021 EU greenhouse gas emissions stood at 2.33 tonnes per capita in Q4 2021, 3.6 % up compared with the same quarter in 2019.
You can read the full analysis by clicking "Eurostat commentary" on the dashboard's header. The dashboard is updated every month with the latest available data for each indicator.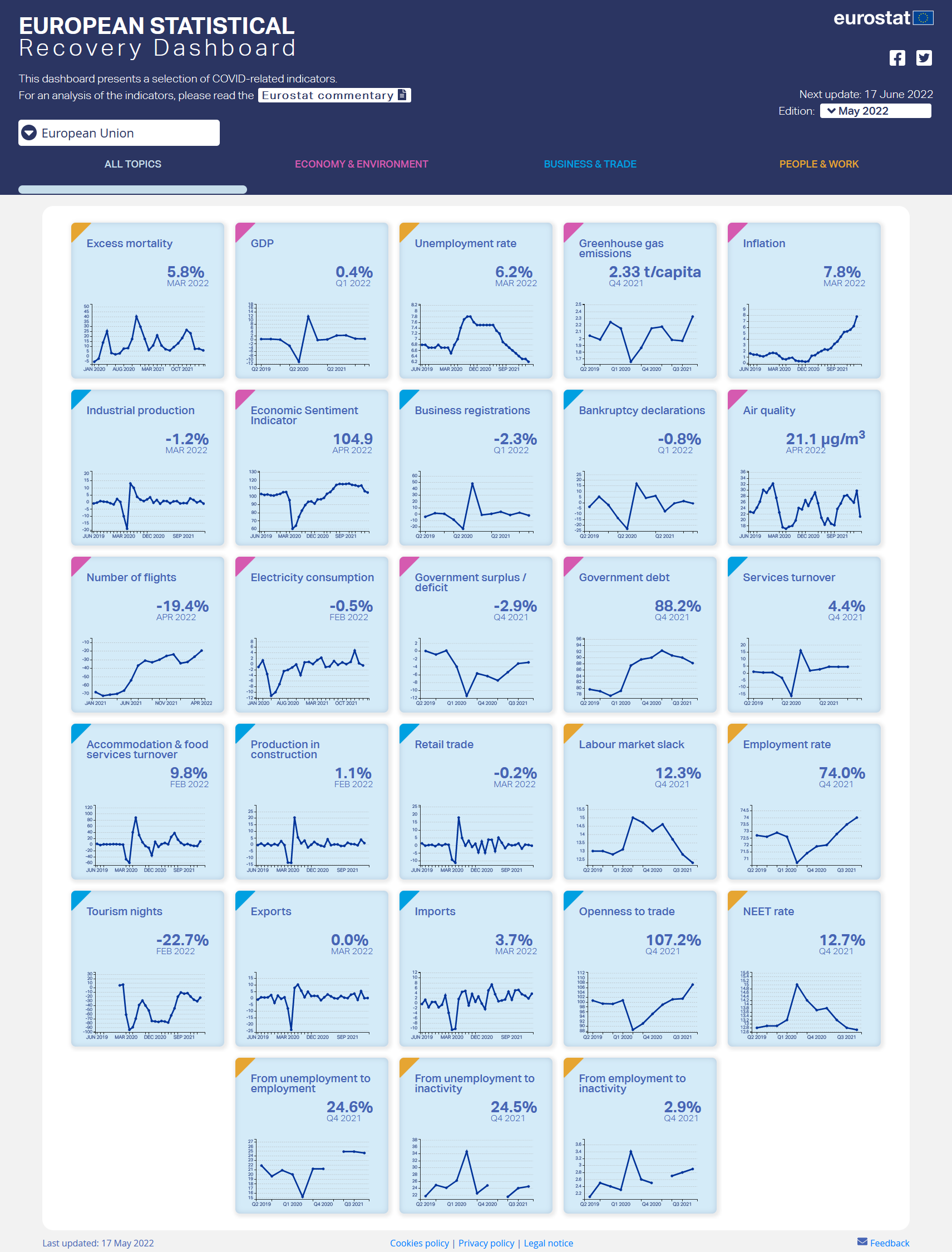 The line charts in the dashboard offer many functionalities to easily explore and analyse the development of the indicators, such as displaying a longer time series, comparing several countries, downloading the customised chart or the source dataset.
For more information, you can also visit our website section dedicated to COVID-19, bringing together in one place a wide range of statistics and data published by Eurostat.

To contact us, please visit our User Support page.
For press queries, please contact our Media Support.