The uptake of digital technologies by businesses has the potential to improve services and products as well as to increase competitiveness. The crisis caused by COVID-19 has also shown that digitalisation is a crucial tool to improving the economic resilience of businesses.
In 2020, only 1% of EU enterprises with at least 10 persons employed reached a very high level of digital intensity while 14% reached a high level. The majority of the enterprises recorded low (46%) or very low (39%) levels. Compared to 2018, the Digital Intensity Index (DII) has seen a general improvement at the EU level, with increases at both very high (+5.0 percentage points (pp)) and high (+0.4 pp) levels.
The DII measures the use of different digital technologies by enterprises and its score (0-12) is determined by how many of the 12 selected digital technologies the enterprises use. The higher the score, the higher the digital intensity of the enterprise, ranging from very low to very high.
Eurostat data show that 9% of the EU's large enterprises had a very high DII and 42% a high level, while only 2% of medium-sized companies registered a very high-intensity level and one-quarter (25%) a high DII. Only 0.4% of small enterprises reached a very high digital intensity, with only 12% scoring a high DII.

Almost half of the medium (47%) and small (46%) size enterprises showed a low level of digital intensity.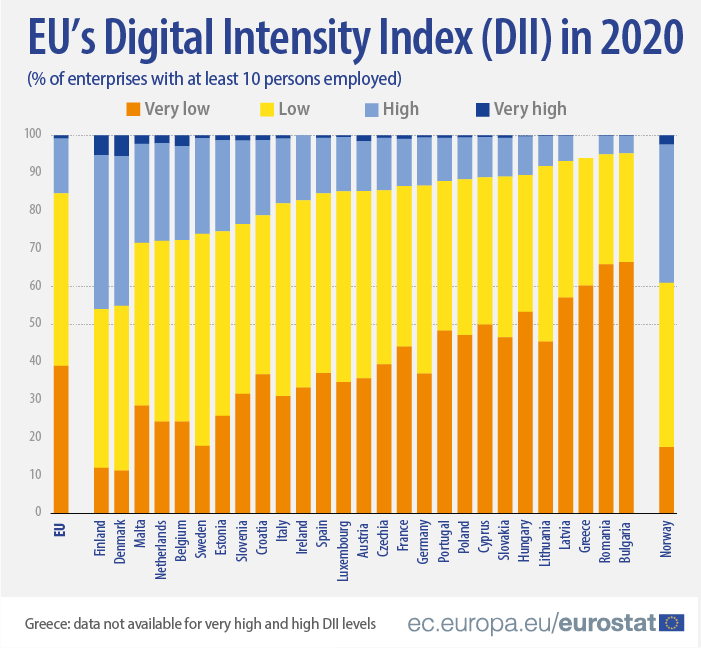 Source: Comprehensive database on ICT usage in enterprises
Finland and Denmark (both 5%) and Belgium (3%) were the EU countries with the biggest proportions of highly digitalised enterprises, while the remaining countries had at most 2% of enterprises with very high level of DII.
By contrast, in Bulgaria and Romania (both 66%), Greece (60%), Latvia (57%) and Hungary (53%), most businesses show a very low DII, indicating a small investment in digital technologies.
According to one of the targets of the EU's vision for digital transformation, at least 90% of the EU's small and medium-sized enterprises (SMEs) should reach a basic level of digital intensity by 2030. The basic level entails the use of at least four technologies and includes enterprises with low, high and very high DII. In 2020, three out of five SMEs (60%) in the EU reached at least a basic level of digital intensity, against 89% of large enterprises.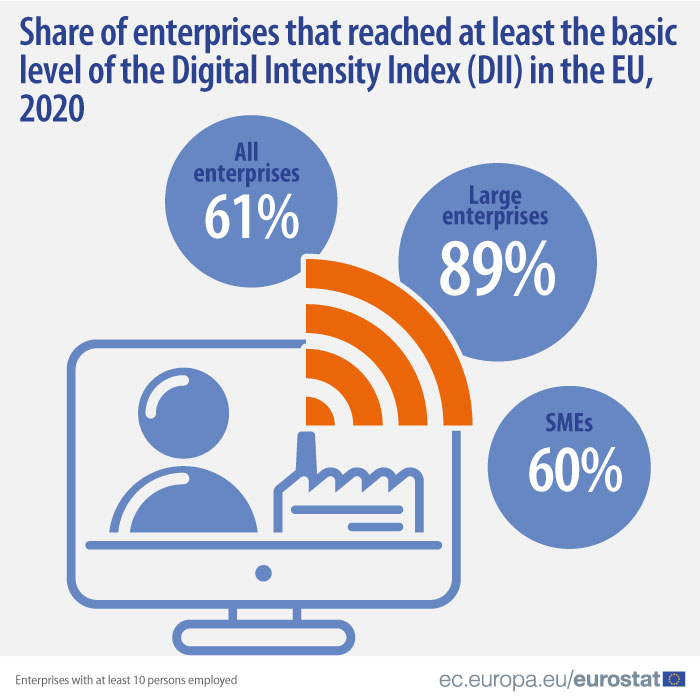 Source: Comprehensive database on ICT usage in enterprises
For more information:
Digital Intensity Index (DII) is a composite indicator, derived from the survey on ICT usage and e-commerce in enterprises. With each of the 12 included variables having a score of 1 point, the DII distinguishes four levels of digital intensity for each enterprise: count of 0 to 3 points entails a very low level of digital intensity, 4 to 6 – low, 7 to 9 – high and 10 to 12 points – very high DII.
The DII composition varies between different survey years, depending on the questions included in the survey, hence the comparability over time may be limited. In 2018 and 2020, the DII composition was similar and comprised the following 12 variables: more than 50% of persons employed having access to the internet for business purposes, employment of ICT specialists; fast broadband (30 Mbps or above); providing more than 20% of persons employed with a portable device allowing mobile internet connections; having a website; a website has sophisticated functionalities (at least one of: description of goods or services, price lists; possibility for visitors to customise or design online goods or services; tracking or status of orders placed; personalised content in the website for regular/ recurrent visitors); use of 3D printing; buying medium-high cloud computing services; sending invoices suitable for automated processing; use of industrial or service robots; having e-commerce sales accounting for at least 1% of total turnover; analysing big data internally from any data source or externally.
The DII is used in the Digital Economy and Society Index, the main monitoring tool of the EU's Digital Decade, which sets the targets for the digital transformation of Europe by 2030. Apart from the target of more than 90% of SMEs reaching at least a basic level of digital intensity, the Digital Decade sets goals for high take-up of advanced digital technologies for EU companies, with 75% of enterprises using cloud computing, Artificial Intelligence, Big Data.
Database on digital economy and society
Dedicated section on digital economy and society
Statistics Explained article on cloud computing - statistics on the use by enterprises
News article on Cloud computing for business yet to go mainstream in the EU
News article on Artificial Intelligence in EU enterprises
Statistics Explained article on digital economy and society statistics – enterprises
Europe's Digital Decade website

To contact us, please visit our User Support page.
For press queries, please contact our Media Support.