What is the Agricultural census 2020?
An Agricultural Census is a statistical operation for collecting, processing and disseminating data on all farms and farmers in a country. The census is carried out every 10 years, as advised by the Food and Agriculture Organization of the United Nations (FAO). The 2020 round will be conducted under the World Programme for the Agricultural Census and it is complemented by sample data collections organised every 3-4 years between the decennial censuses (Farm structure surveys).
Within the European Union (EU), each of the Member States will be tasked with collecting set data for each farmer and farm above certain physical thresholds in their country. This will mean collecting data on as many as 10.5 million farms (2016 data) in the EU.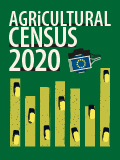 What kind of data will be collected?
In the EU's Agricultural Census 2020 approximately 300 variables will be collected, covering different aspects on farming such as general characteristics of the farm and the farmer, land, livestock, labour force, animal housing and rural development support measures.
Within each of these broad aspects a considerable amount of data will be collected. For example, there will be information on the size of farms, the number of people working on farms, their age and gender, the level of training attained by farm managers, places available in animal housing and information on manure management.
The census data will refer to the year 2020 (with the exception of Portugal, where the data will refer to 2019).
What is Eurostat´s role?
Eurostat has been responsible for developing the legislation establishing the framework for the EU's Agricultural Census.
Eurostat will begin receiving data on the millions of European farms from each of the Member States in 2021, with the bulk of the data arriving in the first quarter of 2022. Its role is to ensure the quality of the data; to anonymise the individual data; to aggregate data to provide EU totals or averages; to disseminate the data in its database and analyse the results (see here for an example of the analysis in our Statistical Book on Agriculture, forestry and fishery statistics, 2018).
Eurostat will start publishing results of the Agricultural Census in the second half of 2022. These results will be used by the public, researchers, farmers and policy-makers to better understand the state of the farming sector and the impact of agriculture on the environment.
Further information:
To contact us, please visit our User Support page.
For press queries, please contact our Media Support.