In 2019, EU Member States exported almost 1 million bicycles and other cycles, worth a total of €368 million, to countries outside of the EU. This represents a 24% increase in numbers compared with 2012.
Over the same period, EU Member States imported over 5 million bicycles, worth €942 million, from countries outside the EU. Compared with 2012, this represents a decrease of 12%.
In addition, EU Member States exported 191 900 electric bicycles worth €272 million in 2019 (the data include bicycles with pedal assistance and an auxiliary electric motor with a continuous rated power less than 250 W). Meanwhile, they imported 703 900 electric bicycles, worth €594 million, from countries outside the EU.
Compared with 2012, the number of exported electric bicycles was almost twelve times higher in 2019, while imports of electric bicycles doubled.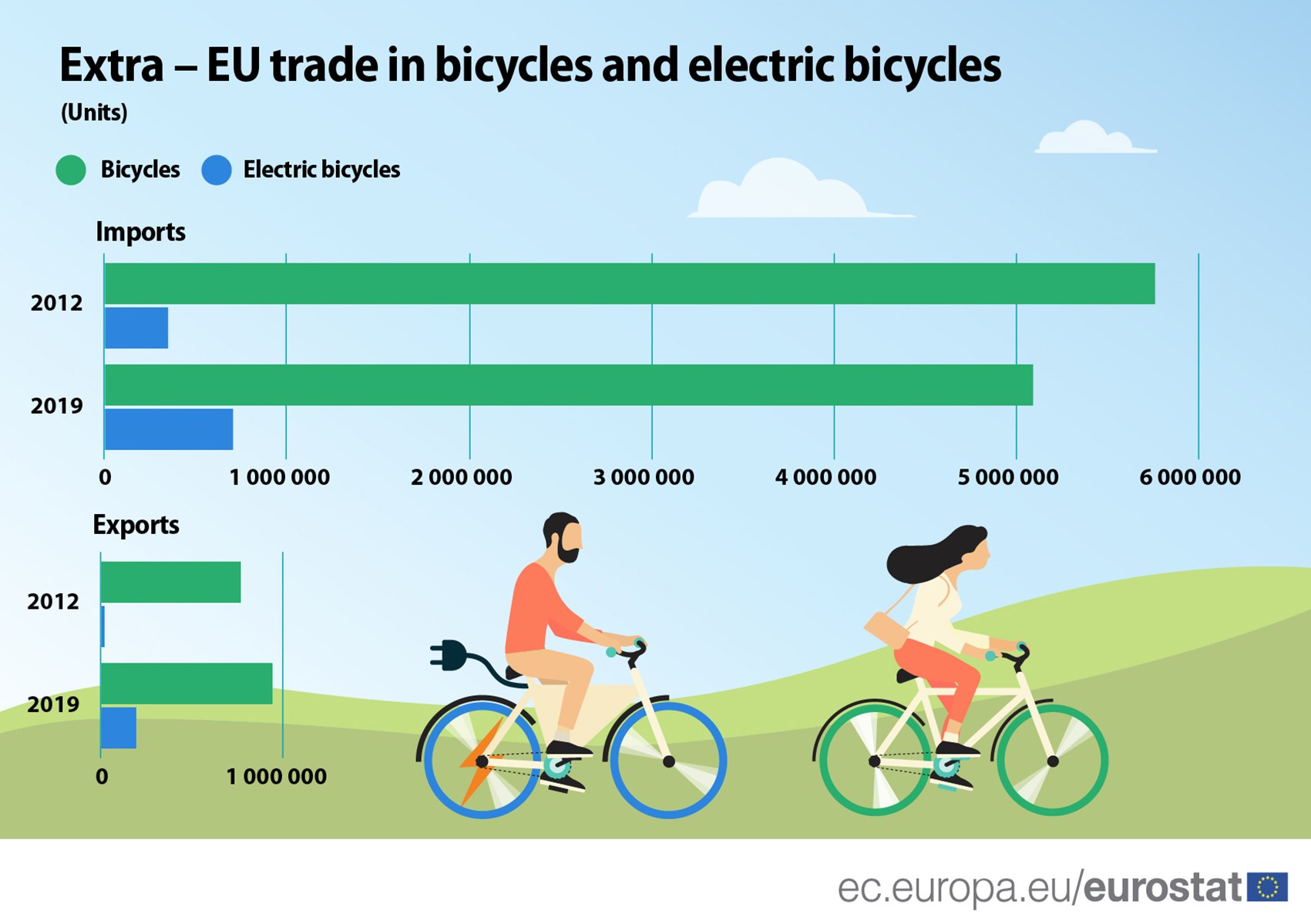 Source dataset: DS-645593
Main extra-EU destinations: the UK and Switzerland
In 2019, the United Kingdom was the main destination of EU bicycles (36% of total extra-EU bicycle exports), followed by Switzerland (18%), ahead of Turkey (6%), Uzbekistan and Norway (both 4%). Meanwhile, Switzerland and the United Kingdom were the main destinations for EU exports of electric bicycles (33% and 29% of total extra-EU electric bicycle exports respectively), followed by Norway (15%) and the United States (13%).
A quarter of EU's imported bicycles from Cambodia, a half of electric bicycles from Taiwan
In 2019, imports of bicycles from non-EU countries came mainly from Cambodia (24% of total extra-EU bicycle imports), Taiwan (15%) and China (14%), followed by Philippines (9%), Bangladesh and Sri Lanka (both 7%). While imports of electric bicycles into the EU came primarily from Taiwan (52% of total extra-EU electric bicycle imports), followed by Vietnam (21%), China (13%) and Switzerland (6%).
If you are interested in latest data production of bicycles, you can read today's article here.
Notes:
The European Union (EU) includes 27 EU Member States. The United Kingdom left the European Union on 31 January 2020. Further information is published here.
The EU data reflect the political change in the EU composition so the UK is considered as an extra-EU partner country for the EU. However, the UK was still part of the internal market for the period covered, meaning that data on trade with the UK were still based on statistical concepts applicable to trade between the EU Member States.
To contact us, please visit our User Support page.
For press queries, please contact our Media Support.