According to preliminary data for 2018, the EU's exports of services to the rest of the world increased by 0.7% between 2017 and 2018, from €912.4 billion to €918.5 billion, while imports increased by 1.1%, from €720.7 billion to €728.4 billion.
As a consequence, the EU trade surplus in services reached €190.1 billion in 2018, 0.8% below the value for 2017.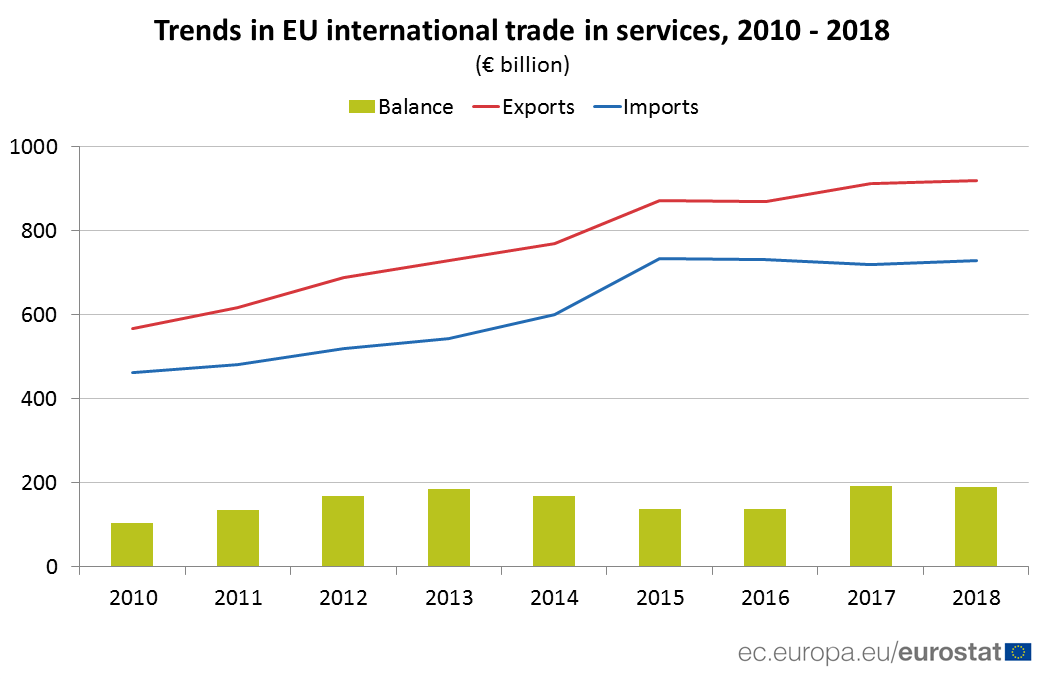 The source dataset can be found here.
ICT boosts EU surplus in trade in services
EU exports were dominated by "other business services" (R&D, business, professional and technical services), which accounted for a quarter of total extra-EU exports (25%), followed by transport (18%) and travel services (15%).
"Other business services" were also the largest category of services imported by the EU (29% of EU imports), ahead of transport services (18%), travel (15%) and charges for the use of intellectual property (15%).
The EU surplus in 2018 was mainly due to surpluses in telecommunications, computer and information services (+€82.0 billion), transport (+31.9 billion), travel (+€30.7 billion) and financial services (+€32.1 billion). A deficit of €41.1 billion was recorded in charges for the use of intellectual property.
The United States, top partner for both exports and imports
In 2018, the main partners for EU exports of services remained the United States (27% of extra-EU exports) and Switzerland (13%), ahead of China (6%) and Japan (4%). The main partner for EU imports of services also continued to be the United States (31% of extra-EU imports), followed by Switzerland (8%) and China (4%).
In 2018, the EU recorded surpluses for trade in services with all its main partners, except India (-€2.6 billion). By far the largest surplus was observed with Switzerland (€57.9 billion), ahead of the United States (€23.1 billion), China* (€21.2 billion), Japan (€14.9 billion) and Russia (€14.1 billion).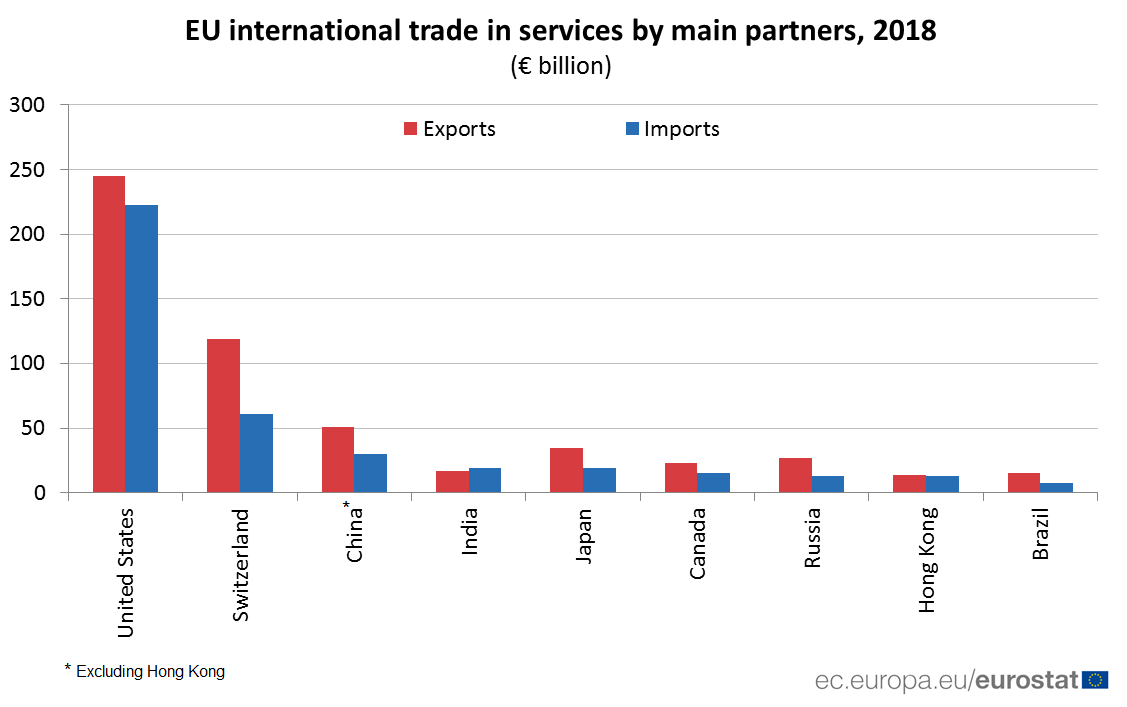 The source dataset can be found here.
For more information:
Overview of statistics on international trade in services
To contact us, please visit our User Support page.
For press queries, please contact our Media Support.