1. ESCO use cases
The European Commission, in order to respond to the disruptive changes of the labour market and the current and future skills gaps, is helping people to discover reskilling and upskilling pathways. The European classification of Skills, Competences,Qualifications and Occupations (ESCO) is one concrete implementation of the digital labour market policies put in place by the Commission at European level.
ESCO is meant to be a reference language for employment and education, to create a shared understanding about skills, learning and occupations across borders and languages. It helps to connect people with jobs, education with employment and to analyse information on skills demand.
Through ESCO, the Commission focuses on:
Ensuring transparency and comparability of skills and occupations in Europe;

Strengthening mobility within the EU;

B

ridging the gap between education and training systems and the labour market;

Enhancing the cooperation of Public Employment Services (PES).
The European Commission also gives emphasis to enhanced skills intelligence in Europe through regular analysis of skills supply (skills possessed by the labour force), skills demand (skills demanded by employers), skills mismatch and skills development.  This allows education and training systems to see more clearly what are the skills demanded by the labour market and how they could adapt their curricula to meet those needs. 
Below some visuals summarising the current state of implementation of ESCO.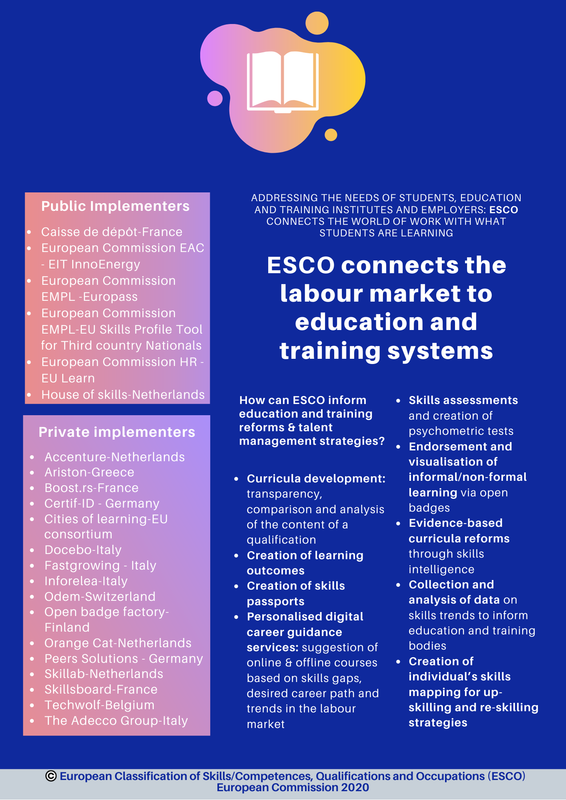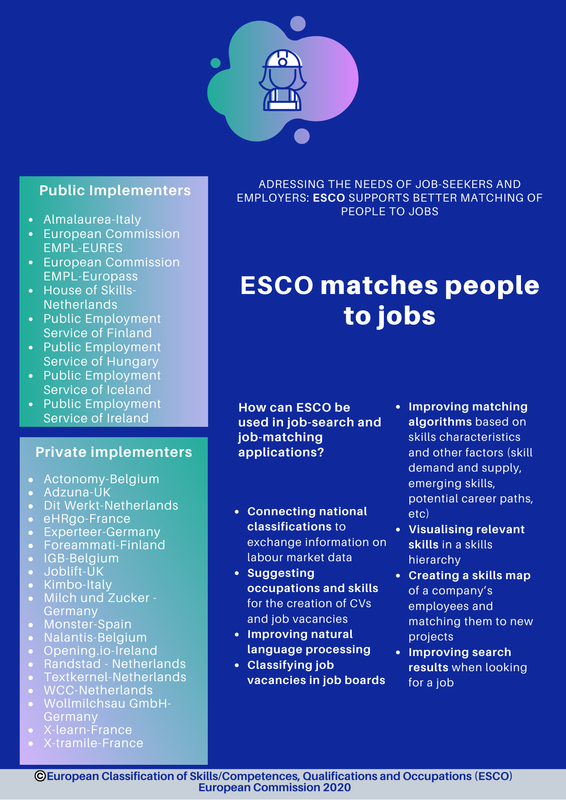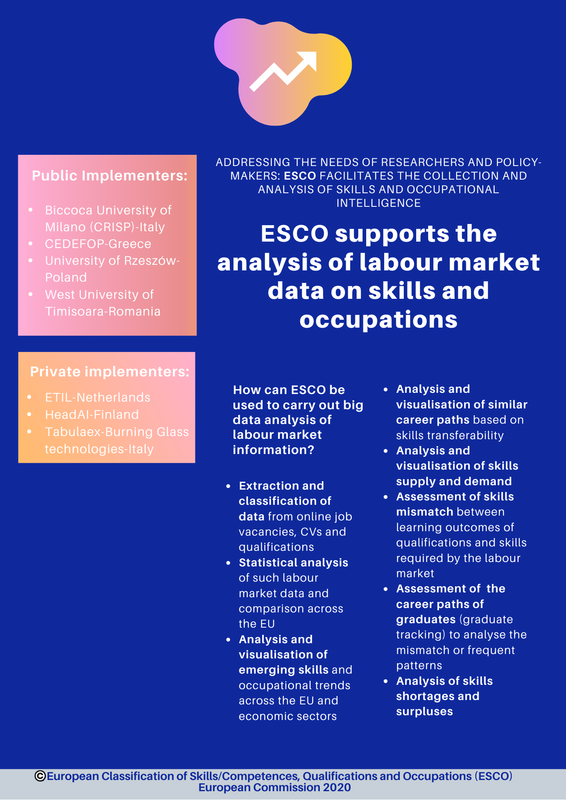 2. Use of ESCO in Open Badges
Two years after its launch, ESCO is already integrated with a significant number of digital platforms covering a variety of areas like recruiting, matching skills to jobs and trainings, digital learning, advertising job vacancies, career planning, documenting and mapping skills and qualifications of jobseekers and analysing the labour market.
Open Badges can align to ESCO by linking to a standard terminology for the skills of learners, as an additional quality measure to support the recognition of informal and non-formal learning achievements.
Learning providers can use ESCO to describe the skills developed in any given learning experience – online or offline - and award an Open Badge in recognition of that particular achievement. The badges can then be curated and displayed in e-portofolios and eventually shared with employers and other third-parties as verifiable records of learning.
Thus:
Open Badges can use ESCO to digitally describe skills, qualifications and learning achievements of individuals.

ESCO can improve the interpretation of skills and qualifications across digital platforms – like job portals, Human Resources Management systems - leveraging the interoperability of open badges.

ESCO can also support the transition from education to work, as a common European reference framework when describing skills, competences and qualifications in Open Badges and job advertisements.
ESCO is increasingly being implemented in digital credentialing systems like

 

Open badge factory,BadgeCraft, DigitalMe, as well as piloted in several Erasmus+ projects.
 

For a more comprehensive update on the status of the uptake of ESCO and Open Badges, please refer to this presentation by the ESCO Maintenance Committee member, Simone Ravaioli. For specific questions about Open Badges, please consult the IMS Global website; alternatively, you can get in touch with the ESCO support team at EMPL-ESCO-SECRETARIAT@ec.europa.eu.