EPSC
European Political Strategy Centre
Policy Outlook, Scenarios and Possible Implications for the EU
Disclaimer: The views expressed in the EPSC Briefs are those of the authors and do not necessarily correspond to those of the European Commission.
The note describes the situation as observed on 14 February 2017.
A political hurricane has swept over Washington DC since Donald Trump was sworn in as the 45th president of the United States of America on 20 January 2017. The flurry of activity and tweetstorms that followed, from an administration that is not yet fully in place due to the slow pace of Senate confirmations, have left countless Americans and governments around the world in dismay and confusion. Many have engaged in the fierce political debates and demonstrations that have trailed President Trump's early decisions – from abandoning the Trans-Pacific Partnership and banning visitors and refugees from seven different Muslim-majority countries, to defunding the International Planned Parenthood Federation and ordering the building of the infamous wall on the US-Mexico border. Yet, irrespective of their immediate anxieties, Europeans need to take a step back from the noise and concentrate on the issues that are of strategic importance to the European Union and its Member States.
The inauguration of Donald Trump as president of the most powerful nation in the world – and Europe's closest ally to date – could essentially be the harbinger of a new era in international relations; it could be a strategic game changer for the current international liberal order and the existing global governance system, with clear implications for Europe, the transatlantic relationship and the world at large. For Europe, it could also turn out to be the unifying political trigger that has so far been missing, highlighting the consequences of abandoning the logic of integration and interdependence. However, the temptation to demonise the new US president and his administration should be avoided as this in itself will not serve the EU's longer-term interests and may prove counter-productive.
Even if some trends of US 'disengagement' from world affairs are not new – as illustrated by the Obama Administration's policy in the Middle East – a strong 'America First' US presidency may serve as an accelerator for the transformation of the post-Cold War order initially set off by Russia's annexation of Crimea and intrusion in Eastern Ukraine, and reinforced by China's rising global importance. Moscow's revisionist behaviour and Beijing's assertiveness are neither new nor unexpected. But an American president that would – willingly or unintentionally – undermine the institutions, values and principles that his forbearers defended, forged together with allies, and upheld for the past 70 years, would have strategic geopolitical implications that are hard to anticipate.
The American democratic system has a number of 'checks and balances' that seek to constrain the power of the Executive Office. Although the first weeks of the Trump administration seemed to point to a clear dominance of the President's inner circle in his decision-making, the reality of the complex political, institutional and legal environment already appears to be catching up with the White House.
The temporary suspension of the Muslim 'travel ban' that was ordered by a Washington State federal judge and subsequently upheld by a federal appeals court, illustrates this point, as does President Trump's own admission that the replacement of Obama's Affordable Care Act may only take place in 2018, despite his first Executive Order being aimed at speeding up the process. The resignation of the National Security Advisor less than one month into the new administration, on allegations that he had illegally discussed US policy with a Russian diplomat before the president's inauguration, is just another example of this reality check.
The workings of the Washington bureaucracy and the influence of the more experienced members of the new US administration may help to restrain the most radical and unorthodox impulses of the presidential team and mitigate attempts to upend current policy fundamentals. Nonetheless, the EU ought to assume that President Trump will attempt to see through his revisionist campaign agenda. This means that at least three scenarios are possible for the future government of the US, under a leader that has never held public office, has no military experience and seems to thrive on disruption and uncertainty. The scenarios are not fully distinct from one another and might overlap on some issues. But in a context of growing uncertainty and volatility each has implications for Europe and the European Union.
President Trump's World View and Policies
Before outlining the different possible scenarios, a closer analysis of some of the new administration's early policy pronouncements is key to understanding their importance for Europe.
'America First' Foreign Policy
President Trump has announced his intention to conduct a foreign policy focused on American interests and based on a vision of American national security anchored in the following basic tenets: ensuring respect for the US through projection of strength; maintaining unquestioned US military dominance; and embracing diplomacy with old enemies and new allies alike. President Trump seems to favour all things bilateral as a way of having the upper hand in any international negotiation. Instead of a win-win multilateral approach, his world seems to be one based on a zero-sum game where America needs to come out on top.
The following are the main foreign policy building blocks of the early stage of the Trump presidency:
Defeating ISIS and other radical Islamic terror groups
This is President Trump's top foreign policy priority. In his inauguration address, he promised to eradicate radical Islamic terrorism 'from the face of the Earth'.1 In this effort, he will build on the achievements of the anti-ISIS coalition and the actions of the Obama administration. This is also where there may be room for opening avenues of cooperation with the EU and NATO partners.
It remains to be seen whether President Trump will continue to have recourse to the high-intensity, intelligence-based, surgical military strikes against ISIS, as practiced under President Obama – but substantially scaling them up – or whether he will eventually be prepared to engage US troops on the ground in a more sizeable type of intervention.
Challenging China's rise to international prominence
President Trump named China as an 'enemy' of the US in his campaign manifesto.2 He accused China of manipulating its currency and of stealing US intellectual property and jobs. He threatened to introduce steep tariffs on Chinese products entering the US. He accused Beijing of militarising the South China Sea and complicating attempts to harness North Korea's Kim Jong-un. Additionally, Secretary of State Rex Tillerson said, in his confirmation hearing, that the US would consider blocking access to the disputed territories in the South China Sea. Then, after almost three weeks in office, when President Trump finally spoke with his Chinese counterpart on 9 February, he seemingly brushed all this aside. In the exchange, he said he would honour the 'One China Policy', allaying the alarm that his conversation with Taiwan's President had raised in Beijing after his election victory. Both leaders vowed to continue their talks on issues of mutual interest and work towards successful outcomes. On the eve of this discussion, there had been an 'unsafe'3 encounter between a Chinese and an American aircraft in international airspace on the South China Sea.
Establishing a contractual relationship with Russia
President Trump displays a rare and intriguing type of political affinity for President Putin. On 11 January, at his first news conference after being elected, he said: 'If Putin likes Donald Trump, guess what folks, that's called an asset, not a liability'.4 While admitting that Russia was behind the hacking of Democratic Party servers ahead of the elections, President Trump intends to improve relations with Moscow and believes that the Kremlin will respect the US more with him at the helm. In President Trump's pronouncements, there is no trace of allegiance to the normative set of values in which US-Russia policy has traditionally been anchored. In a recent interview aired on 5 February, President Trump seemed to compare US policies with Russia's actions. When asked about President Putin being a 'killer,' President Trump retorted: 'There are a lot of killers. You think our country's so innocent?'5 The most likely logic governing his approach to Russia is a contractual one, in line with which a deal, or a series of deals, would be agreed that would benefit both sides. In an early sign of this eventuality, President Trump had already signalled a readiness to reduce sanctions on Russia in exchange for a deal to reduce nuclear arsenals. Following a phone call between Presidents Trump and Putin on 28 January, the White House said the conversation marked 'a significant start to improving the relationship between the United States and Russia that is in need of repair'.6
Reversing the logic of diplomatic engagement with Iran
President Trump has consistently criticised the Iran Nuclear agreement (Joint Comprehensive Plan of Action) – a hallmark of EU-led multilateral diplomacy. On 2 February, after Iran conducted ballistic missile tests, the White House announced that it had put Iran 'on notice'7, with President Trump tweeting that Iran was 'playing with fire'.8 Following that, the US introduced a new wave of sanctions against the country. Ayatollah Ali Khamenei responded by thanking President Trump for revealing America's true face. On 5 February, Vice-President Mike Pence affirmed in an interview that no decision had been made on whether the Joint Comprehensive Plan of Action should be scrapped or not, but that the administration was 'evaluating' what he termed a 'terrible deal'9 or, in President Trump's words, the 'worst deal ever negotiated'.10 In a recent social media pronouncement, President Trump accused Iran of being number '#1 in terror'.11 It is possible that the Trump administration will increase pressure on Iran by means of fresh sanctions and countering Iranian influence in the Middle East. Assertive rhetoric will strengthen hardliners in Iran.
Addressing the North Korean nuclear threat
Pyongyang's near-ability to mount a nuclear weapon on a long-range missile capable of reaching the US is one of the most pressing national security challenges for President Trump. In the course of his campaign, Donald Trump said that he would 'have no problem'12 speaking to North Korea's Kim Jong-un and suggested that Japan and South Korea should equip themselves with nuclear weapons for deterrence purposes. More recently, during his visit to the Far East, Defence Secretary James Mattis warned North Korea that any use of its nuclear weapons would be met with 'overwhelming' force.13 In a defying move, North Korea nevertheless launched a mid-range missile on 12 February that eventually fell into the Sea of Japan. Standing next to Prime Minister Abe of Japan, who was then visiting the US, President Trump reaffirmed Washington's commitment to the security of the country. But officials in Seoul were somewhat dismayed that President Trump seemingly ignored South Korea in this situation.
Correcting the perceived imbalance in trading relations
President Trump holds a world view that is fundamentally antithetical to the liberal international order. He believes that the set-up of the global trading system is biased against the US. His administration is therefore likely to engage in direct confrontation with China, Mexico and other partners, undermining the World Trade Organisation along the way. The possibility of a destructive logic being pursued is real. Increasing pressure on Mexico by raising tariffs up to 15 percent or more (President Trump spoke of a 35 percent tariff during the campaign) is likely to be the first tangible action, possibly followed by a challenge to China's industrial overcapacity. At the same time, withdrawal from the Trans-Pacific Partnership leaves room for China to orchestrate a closer multilateral framework in Asia.
Removing the constraints of international climate agreements
The new US administration is intent on cutting back on environmental regulations. The US commitment to being a champion on climate action and a catalyst for international cooperation in this domain is in jeopardy as well. At the same time, when President Trump was asked recently whether to withdraw from the Paris climate agreement, he responded that he is keeping 'an open mind to it'14 and that there might be 'some connectivity'15 between climate change and human activity.
Relations with Europe
Distorted view of European integration
There is no love lost between President Trumpand the European Union. His sentiment towards the EU appears to vacillate between ironic and dismissive to openly unfriendly and, at times, subversive. President Trumphascalled the EU a 'consortium' that came together, 'so that it could compete with the United States'.16 It is worth noting that his past business interests in Europe seem to have collided with EU environmental regulations, shaping his personal views on the Union: 'Getting the approvals from the country [Ireland] was fast, easy and efficient. Getting the approvals from the group – I call them consortium – was very, very tough'.17 Additionally, he criticised Chancellor Merkel's handling of the refugee crisis. He said that the EU was a 'vehicle'18 for Germany and that he expected more countries would leave the EU, like the UK. He has claimed that Europe is a 'mess'19 in terms of its immigration situation and even alleged that the media is not reporting on frequent terrorist attacks on European soil. He is set to visit European countries on several occasions in the next months, with a planned trip to the UK, and attendance to the May G7 Summit in Taormina, as well as the July G20 Summit in Hamburg. On 9 February, High Representative of the Union for Foreign Affairs and Security Policy and Vice-President of the Commission, Federica Mogherini, was in Washington DC for meetings with the new Secretary of State, Rex Tillerson, and also with then National Security Adviser, Michael Flynn, and Senior Adviser Jared Kushner at the White House.
Strategic negligence in approach to NATO
President Trump has been ambiguous on NATO. While considering that the alliance was 'obsolete'20 for not fighting terrorism, he has also said that the US 'strongly supports NATO'.21 He has consistently called for all NATO members to make their full and proper financial contributions to the alliance, a point stressed in President Trump's phone call with Secretary-General Stoltenberg on 5 February. This position is more moderate than earlier pronouncements; during the campaign, he seemed to imply that US commitment to Article 5 was conditional on allies' defence spending. EU NATO members have been slow to comply with the 2 percent of GDP benchmark for spending on defence, even if a number of them do meet NATO guidelines for expenditure on equipment (Figures 1 and 2). President Trump has in any case accepted to participate in NATO's Brussels Summit at the end of May.


Mixed signals with respect to US engagement in Ukraine
While considering Ukraine to be mainly a European problem and arguing for easing sanctions on Russia during his campaign, in a recent phone call with President Poroshenko, President Trump said the US 'will work with Ukraine, Russia, and all other parties involved to help them restore peace along the border'.22 It seems that President Trump is still in the process of forming his view on Ukraine and the conflict with Russia. Some reports suggest that he believes the conflict in Eastern Ukraine is a civil war, in line with the Kremlin's view of the situation. However, others appear to show he believes that the US should have armed Ukraine to better defend itself.
Scenarios for a New US Administration
Loud America
Donald Trump may surprise the world and still turn out to be a president more in line with his predecessors in terms of America's engagement with the world – although conspicuously more vocal on some issues. He could opt to have a more detached ceremonial role and get involved only on more symbolic issues that resonate with his domestic base of supporters and that he raised during his campaign (e.g. Trans-Pacific Partnership; threatening to impose 'very major'23 border taxes on US companies that would move production overseas; building the wall with Mexico; and curbing illegal immigration) and leave the daily hard work and demands of high office to Vice-President Mike Pence (who was the chairman of the transition team, has executive political experience and strong ties to the Republican Party establishment).
In this scenario, while the rhetoric and the President's twitter account may, at times, be harsh or inflamed, US policy would in fact not change considerably in practical terms. For instance, the US has long demanded that its European allies spend more on defence, in line with the 2 percent of GDP NATO benchmark. For many years, Europeans have been slow to comply, but this has not diminished Washington's commitment to the Atlantic Alliance.
The new president's unpredictable nature should thus rather act as an incentive and an opportunity for Europe to step up its commitment to European security and defence, and to assume a more resolute role in defending multilateralism.
The EU should also be on the ready and prepared to counter occasional gripes coming from Washington. Irritants of the past (e.g. tax policy, data privacy, internet firms) will still be there and will probably be harder to address, also taking into consideration that many incoming administration officials at various levels will have little or no knowledge of the EU and its workings.
Walled America
An 'America Frist' presidency, as announced by President Trump on inauguration day, may launch a period of increased retrenchment and protectionism. Broadly, US foreign policy has oscillated between internationalism and isolationism throughout past decades. This time round, and giving credit to the pronouncements of the new president, the US may turn further inward and accelerate its disengagement from the international system and from the institutions that make up today's global governance architecture. It is unlikely that the US would be able to completely isolate itself in a still globalised and interdependent world, but this scenario will give rise to more uncertainty and volatility.
Given that there are no political vacuums in international politics, the void will naturally be filled. And this presents an opportunity for Europe, if it can rise to the challenge, to defend multilateralism and the present global order more forcefully and uphold the banner of Western values and institutions. On the other hand, there is risk that Europe, mired in its own internal problems and in the political uncertainty that 2017 brings, would opt to pursue its own introversion. In this case, it is likely that other actors, like Russia and China, will attempt to play an even more decisive role in trying to replace the global leadership role exerted by the US until now.
Changes in the United Nations system, the International Financial Institutions (Internation Monetary Fund and World Bank), the World Trade Organisation, the G20 and G7, can be expected if the US becomes less active in these fora. The EU should be prepared for this and take a leadership role with a clear understanding that some of the international architecture and norms need to be preserved, while others may need to be reformed to better reflect the current distribution of power in the world. At the same time, new structures may need to be created to deal with emerging issues, from cyber-security and internet governance to urbanisation.
Trouble America
In this scenario, the new administration not only actively and purposefully undermines the current global order and institutions, but it gives 'troublemakers' a free rein in exchange for 'good deals' for America (e.g. Crimea in exchange for nuclear arms reduction). This is by far the most negative and unsettling outlook for the EU. US commitments to international treaties and its attachment both to the EU and European security and stability – hallmarks of the current world order – could become conditional or subject to a transactional cost-benefit analysis. This could potentially lead to disagreements and even hostility between transatlantic partners, weakening both.
Additionally, if President Trump lives up to his campaign promises, embarking on a revision of existing or expected trade deals (e.g. North Atlantic Free Trade Agreement, Trans-Pacific Partnership, and Transatlantic Trade and Investment Partnership), and confronting China with a spike in tariffs, this could lead to trade wars and undermine the current World Trade Organisation system. The repercussions would depend on how others react to such protectionist or offensive trade policies. A more confrontational America may also create a security dilemma for many countries in the world, including Russia and China. This could lead to further destabilisation of Eastern Europe, North Africa and the Middle East, with clear negative consequences for the stability and security of the European continent.
Implications for the EU
Unpredictability is likely to be the name of the game, at least in the first months of the new US administration. We may not see the dominance of one of the scenarios outlined above, but a combination of all three, possibly in a state of constant fluctuation between them. Events are likely to drive policy outcomes, at least as much as design.
A further complicating factor in understanding what the new US administration will embark upon is the divergent views that many of Trump's senior cabinet picks have expressed: they not only disagree among themselves on some issues (e.g. Russia), but they also contradict the president on some policies (e.g. trade). Before the inauguration, the incoming White House press secretary said that President-elect Trump was not looking for 'clones'24 and that he supported this diversity of views. Among the principals and White House senior staff, it is likely that those that have the ear of the president and are last in the room will have a stronger influence in the President's decisions. For the moment, and while the confirmations are still ongoing, it seems that those that are closer to the president have been calling the shots (e.g. the way in which the so-called Muslim ban was drafted and rolled out seems to point to an exclusion of key cabinet members from the process, not to mention executive agencies).
Irrespective of what will come next, the EU needs to be resilient and prepared for any possible situation. This could be the opportunity that many Europeans have longed for: without disavowing our enduring alliance with the US and its people, the EU has a chance to affirm itself on the global stage as a more autonomous political player, perhaps even strengthening the transatlantic partnership in the longer term. And this should be done with like-minded partners, such as Australia, Brazil, Canada, Japan, Mexico, New Zealand, South Africa and South Korea.
Dealing with Possible Early Actions of the Trump Presidency
Europe's responses to the immediate challenges posed by the Trump presidency will be of particular importance and will shape the future of the relationship. The EU should therefore be prepared to address the following contingencies:
Possible lifting of Russia sanctions
Such a decision could have several consequences: it could act to legitimate a Russian sphere of influence in Europe's vicinity and embolden the Kremlin into more foreign adventurism in Europe, the Middle East and North Africa; it could further drive the US and Europe apart; break Europe's unity vis-à-vis Moscow, leading to a serious crisis within the EU; and empower populist movements in Europe, provoking further domestic instability in a crucial electoral year.
Suggested response: The EU should maintain its position that sanctions are inextricably linked to the implementation of the Minsk agreement. At the same time, the EU should engage in a fresh diplomatic effort with Moscow and Kiev. It should step up pressure to stabilise the situation, by means of closer monitoring of the withdrawal of Russian military support to the separatists, and of the fulfilment of Ukrainian obligations, including the holding of local elections in Eastern Ukraine. The EU would need to enter this negotiation from a position of strength, declaring readiness to contribute to a potential United Nations peacekeeping mission to monitor border security along the Russian-Ukrainian border.
Triggering a trade war between the US and China
Although there are real issues relating to China's overcapacity, direct confrontation is likely to exacerbate the problem. China did engage in currency manipulation in the past decade but it has recently been supporting its currency instead to prevent excessive capital flows. Imposing a 45 percent tariff on 500 billion US dollars worth of US imports from China would be highly detrimental to both sides and could increase unemployment in the US to nearly 9 percent by 2020, according to the Peterson Institute.
Suggested response: The EU should insist that the World Trade Organisation framework needs to remain in place as an organising platform for the multilateral trading relationship. The EU's reformed trade defence mechanism is a powerful and sufficient instrument which has already been treated with utmost seriousness by the Chinese authorities, as it affects the country's entire subsidy system. Therefore, the EU has no reason to go beyond its latest policy recalibration and sympathise in any way with the US administration's trade offensive vis-à-vis China. It should also take active steps to preserve the multilateral architecture, including the World Trade Organisation, by committing to respect its rules and arbitration mechanisms, also in a situation in which they would be challenged by the US.
US withdrawal from the Paris climate agreement
This decision would trail President Trump's declared scepticism (if not denial) of climate change, whereby he has presented it as a Chinese scam to make US manufacturing less competitive. Whether the US should seek an informal or a formal withdrawal from the agreement, it will not happen overnight. In the short term, such a decision could act as a trigger for other reluctant countries that are parties to the United Nations Framework Convention on Climate Change (UNFCCC) to take action undermining the pledges and goals agreed in Paris. At the same time, this could isolate the US on a key segment of future global market growth, potentially stimulating other major economies to invest in the climate agenda, as already indicated by China and India.
Suggested response: The EU should stay at the forefront of defending the Paris accord and multilateral mechanisms that drive forward the global climate agenda. It is key for the EU to position itself as a global leader in the competition for the next generation of clean technologies, such as renewable energy, electric cars and batteries, and digital infrastructures. If the past can serve as a guide, the parties to United Nations Framework Convention on Climate Change should keep engaging and negotiating with the new US administration as they did when former President George W. Bush rejected the Kyoto Protocol. The EU should also actively demonstrate to its transatlantic partners that such a decision would destroy jobs in the US and would also generate huge public spending and healthcare costs. The EU should engage with leading US companies and civil society groups that advocate for renewables, low-carbon technology, as well as global climate action.
Abrogating the Iran nuclear deal
It should not come as a surprise if the new administration decides to repeal the Iran nuclear deal, even though it remains unlikely given that the US would then take responsibility for the likely resumption of the Iranian nuclear programme. However, abrogation of the agreement would be consistent with President Trump's public statements. Additionally, it is likely that Washington will push back more forcefully against Iran's regional actions, also as a way to prop up the traditional allies of the US in the Middle East.
Suggested response: The EU should maintain its commitment to the Joint Comprehensive Plan of Action and continue supporting its implementation. One year after its roll-out, the agreement is delivering on its main purpose: helping to ensure the civilian nature of Iran's nuclear programme. Iran is verifiably complying with its nuclear-related obligations, but permanent monitoring is needed. The EU should seek reassurances that Tehran remains committed to discontinuing the nuclear programme in exchange for lifting EU and international sanctions. It should also seek the continued engagement of other negotiating parties (especially China and Russia). In addition, the Union should find allies in the administration and in the Republican Party that could mitigate the effects of such a decision. US Secretary of Defence James Mattis has publicly supported the accord, while the Speaker of the House of Representatives Paul Ryan has said that it would not be possible to set the clock back and reintroduce abandoned multilateral sanctions, even if the deal is a 'huge mistake.'25
Conclusions: Prepare for the Worst but Relentlessly Pursue a Positive Agenda
The Trump administration will remain 'a riddle wrapped in a mystery inside an enigma', as Winston Churchill once said of Russia. At the same time, the uncertainty and unpredictability of times ahead should not overshadow our judgment. The recent past of 'polycrisis' has been fertile in surprises and setbacks, but has also opened up new opportunities.
There is still a vast common agenda between the EU and the US that is no less relevant under the new American president. Instead of reacting to every single provocation that comes its way, the EU should tirelessly stress its commitment to transatlantic relations based on values of mutual respect. It should also identify issues, such as the fight against terrorism, where the Trump presidency might see an opportunity for closer cooperation. While being prepared for every possible contingency, the EU must remain true to itself, in the belief that time is on its side.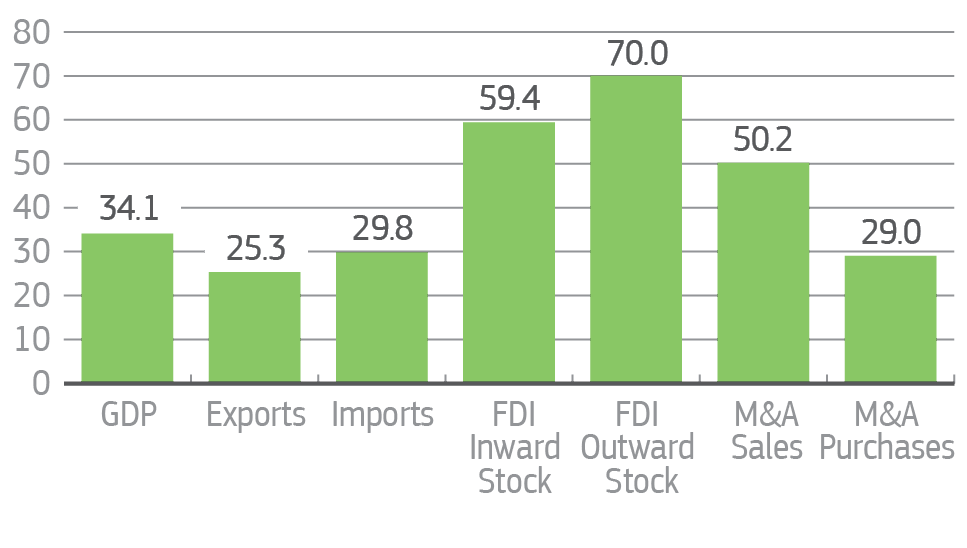 Notes
Notes and References
The White House,

The Inaugural Address

,

20 January 2017.
Phillips, Tom,

Donald Trump and China on dangerous collision course, say experts

, in The Guardian, 7 February 2017.
AFP,

South China Sea: US reports 'unsafe encounter' with Chinese military aircraft

, in The Guardian, 10 February 2017.
BBC News,

Full transcript of Trump press conference

, 11 January 2017.
Sophie Tatum,

Trump defends Putin: 'You think our country's so innocent?

', in CNN, 6 February 2017.
The White House,

Readout of the President's Call with Russian President Vladimir Putin

, 28 January 2017.
Julian Borger et al,

Trump administration 'officially putting Iran on notice'

, says Michael Flynn, 2 February 2017.
Reuters,

Trump tweets 'Iran is playing with fire', says won't be as kind as Obama

, 3 February 2017.
Ben Wolfgang,

Vice President Mike Pence: White House 'evaluating' President Obama's Iran nuclear deal

, in The Washington Times, 5 February 2017.
Reuters,

Trump election puts Iran nuclear deal on shaky ground

, 9 November 2016.
Thomas Erdbrinkfeb,

Iran's Supreme Leader Thanks Trump for Showing America's 'True Face'

, in The New York Times, 7 February 2017.
Steve Holland and Emily Flitter,

Exclusive: Trump would talk to North Korea's Kim, wants to renegotiate climate accord

, in Reuters, 18 May 2016.
Demetri Sevastopulo and Bryan Harris,

Mattis reassures allies on North Korea threat

, in The Financial Times, 3 February 2017.
Chris Mooney,

Trump: There is 'some connectivity' between humans and climate change

, in The New York Time, 22 November 2016.
Ibid.
Joseph Schatz,

Trump's EU jab ignores US role in Europe

, in Politico, 25 July 2016.
Ian Schwartz,

Full Replay: Donald Trump And Theresa May Hold A Joint Press Conference

, in RealClear Politics, 27 January 2017.
Henry Mance et al,

Donald Trump takes swipe at EU as 'vehicle for Germany'

, 16 January 2017.
Sophia Rosenbaum,

Trump defends immigration ban, calls the world 'a horrible mess'

, in New York Post, 29 January 2017.
Reuters,

Trump says NATO is obsolete but still 'very important to me'

, 16 May 2017.
The White House,

Remarks by President Trump to Coalition Representatives and Senior U.S. Commanders

, 6 February 2017.
The White House,

Readout of the President's Call with President Petro Poroshenko of Ukraine

, 13 February 2017.
The New York Times,

Trump on a 'Very Major' Border Tax

, 23 January 2017.
Igor Bobic,

Donald Trump's Cabinet Nominees Disagree With Him On A Lot Of Things. It May Not Matter

, The Huffington Post, 12 January 2017.
Ben Wolfgang,

Vice President Mike Pence: White House 'evaluating' President Obama's Iran nuclear deal

, in The Washington Times, 5 February 2017.
Identifiers:
PDF: ISBN 978-92-9242-127-4 • doi:10.2804/462744 • Catalogue number: QT-04-17-179-EN-N
HTML: ISBN 978-92-9242-129-8 • doi:10.2804/77 • Catalogue number: QT-04-17-179-EN-Q