Change in GDP per capita (1990 = 100)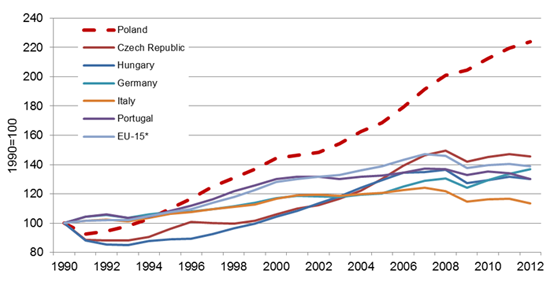 Source: Securing Poland's economic success: A good time for reforms
There are a multitude of factors behind Poland's remarkable performance:
Deep structural reforms at the beginning of the 1990s eliminated most of the inefficiencies of Poland's then centrally planned economy, a legacy of its Communist past. This fast-tracked the country's transformation into an open, free-market economy.
Wage moderation and a relatively stable business environment attracted considerable foreign direct investment.
Billions of euros in EU structural funds contributed to the improvement of Poland's infrastructure, and its human and productive capital.
Poland's economic success has been impressive but its past record does not guarantee the same level of economic expansion in the future. As can be seen in the graph below, the growth model underpinning Poland's success heavily relies on low-to-medium technology sectors with a relatively high share of low-skilled labour.
Share of high-tech and medium high-tech manufacturing in the gross value added of industrial production (in %)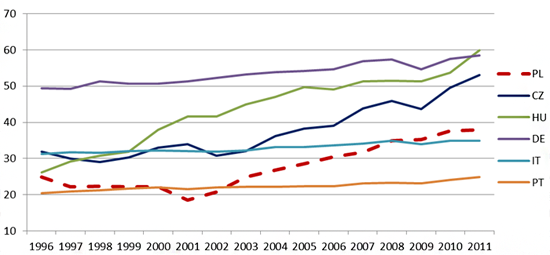 Source: Securing Poland's economic success: A good time for reforms
This exposes the country to the risk of the so-called 'middle-income trap', where a country's productivity (and its standard of living) gets trapped at a medium level. To avert this risk and become a high-income, knowledge-based society, Poland needs to implement reforms that:
boost spending on R&D;

create a more favourable business environment for innovation;

further improve human capital skills; and

attract high-tech productive investment.
For more information about Poland's economic performance: