Additional EU aid for flood victims in Albania
To assist the population affected by the floods in Albania, the European Commission is giving over € 118 000 to provide around 8 000 people in the most badly hit areas with food parcels, hygiene kits and blankets as well as information material on health and hygiene during floods.
These funds are being provided via the Disaster Relief Emergency Fund (DREF) of the International Federation of Red Cross and Red Crescent Societies (IFRC) and will be channelled through the Albanian Red Cross.
In addition, Austria, Croatia, Slovakia, Belgium and Montenegro have offered material assistance to Albania via the EU Civil Protection Mechanism. Several EU Member States have helped on a bilateral basis.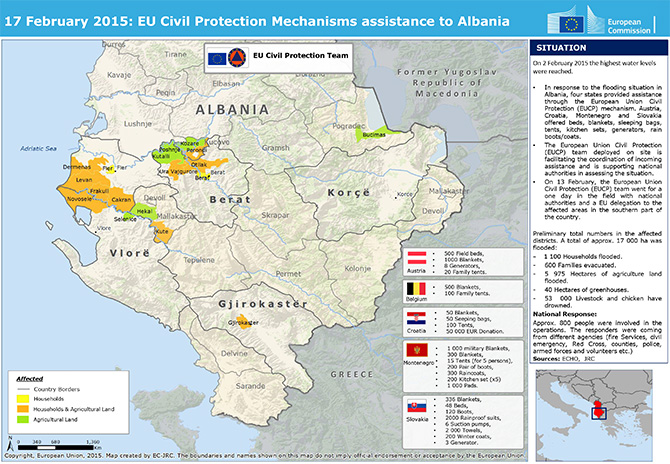 Click to enlarge map.
EU Civil Protection Team deployed
11.02.2015, 14:00
An EU Civil Protection Team is deployed to Albania today to liaise with national authorities and facilitate the coordination of incoming assistance.
Several more EU Member States are considering sending assistance to Albania.
EU assists Albania during heavy floods
10.02.2015
Severe flooding has hit Albania over the last ten days. The EU is responding to this emergency providing relief supplies via the EU Civil Protection Mechanism.
Continuous heavy rainfall has forced many people to evacuate their homes and caused considerable material damage, including on infrastructure. According to the Albanian authorities more than 600 families have been evacuated from the flooded areas and around 1000 families have had their houses damaged.
A number of EU Member States, including Austria and Slovakia, have so far responded to the request for assistance of Albania and have offered in-kind help. This includes beds, tents, blankets, generators and pumps.
The delivery of the supplies to the affected areas will be coordinated by the European Commission's Emergency Response Coordination Centre (ERCC).
The ERCC is closely monitoring the situation and remains in constant contact with the Albanian authorities and with participating states in the EU Civil Protection Mechanism.