In the European Union, our help connects us
In these unprecedented times, the glue that keeps Europeans together is European solidarity.
The European Union actively promotes these acts of solidarity among EU Member States and globally. Through EU Civil Protection, the EU coordinates the deployment of medical teams and transport of equipment.
To ensure a better response to future challenges, in April 2021, a new legislation on EU Civil Protection will allow faster and more effective European solidarity operations. This legislation will give the EU additional capacities to respond to new risks in Europe and the world.
See some examples of EU Civil Protection in action and how the EU supported its Member States in responding to emergencies:
From Italy to Greece – Fires
Since 2019, the European Commission co-finances the stand-by availability of a rescEU firefighting fleet to address potential shortcomings in responding to forest fires.
Under the rescEU reserve, several EU Member States put together firefighting planes and helicopters at the disposal of other EU Member States in case of an emergency, in exchange for financial contribution of the standby costs of these capacities.
In August 2019, Greece suffered 56 forest fires within 24 hours. The country requested assistance from the EU to help tackle the blazes.
The EU responded immediately by coordinating an emergency response: 2 Italian firefighting planes were swiftly dispatched to the island of Evia in Greece alongside 1 plane from Spain. These 3 planes executed 172 water drops – which equals more than 1 million litres of water – on the burning areas of the island of Evia.
This was possible thanks to EU Civil Protection.
From Germany to Lebanon – Beirut Explosion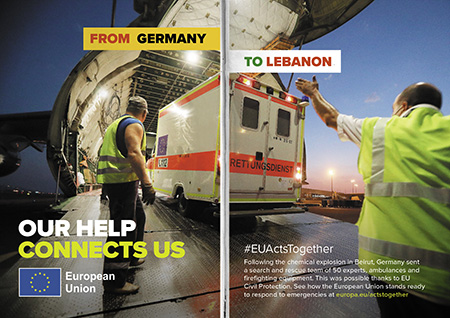 Due to the tragic explosion at the Beirut port in August 2020, over 6,000 people were injured, and more than 200 died.
Following the devastating blast, the European Civil Protection Mechanism coordinated the immediate response from the EU. Several Member States provided medical supplies and equipment, surgical and emergency health kits, vehicles, food, and other supplies.
German emergency responders arrived in Beirut less than 48 hours after the explosion together with 54 tonnes of medical supplies and even a fleet of ambulances.
This was possible thanks to EU Civil Protection.
From Lithuania to Armenia – COVID-19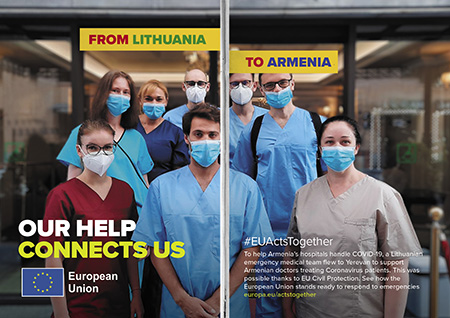 When Armenia needed support responding to the coronavirus pandemic, Lithuanian emergency services sent 90,000 COVID-19 tests in June 2020.
An emergency medical team from Lithuania, consisting of specialised COVID-19 management personnel, also worked alongside Armenian colleagues for 2 weeks in the fight against the pandemic.
In addition, the EU also funded a German medical team.
This was possible thanks to EU Civil Protection.
From France to Bolivia – Fires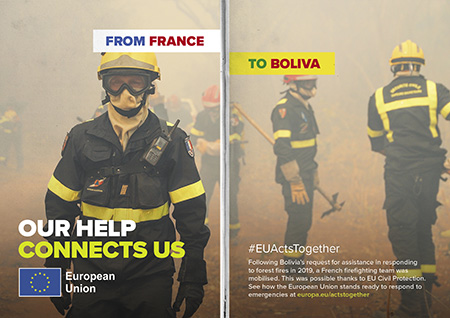 When forest fires in Bolivia grew too strong for national firefighting forces to handle them alone, the country requested assistance from the EU Civil Protection Mechanism in August 2019.
The EU's Emergency Response Coordination Centre coordinated the response of EU Member States.
Within days, France deployed a firefighting team of 40 men and women to act on the ground and further 10 experts to assess the situation, also using drones.
This was possible thanks to EU Civil Protection.
From Romania to Italy – COVID-19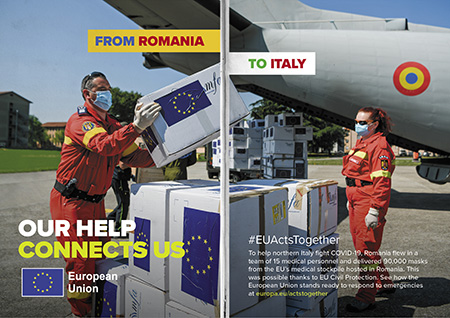 At the onset of the coronavirus pandemic, Italy was among the hardest-hit European nations. In some regions, hospitals were overwhelmed to care for the high number of COVID-19 patients.
To help northern Italy fight COVID-19, Romania flew in a team of 15 doctors and medical specialists and delivered tens of thousands of protective masks to help save lives.
This was possible thanks to EU Civil Protection.
From Slovakia to Albania – Earthquake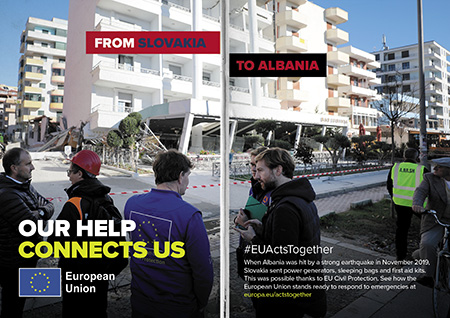 In 2019, 2 earthquakes struck Albania. The 6.4-magnitude strong earthquake of November 2019 was among the deadliest earthquake to hit the country, claiming many lives and leaving thousands injured. This heavily overwhelmed the country's response capacity.
Following a request for assistance, the EU Civil Protection Mechanism coordinated the response of 13 countries in providing immediate support to the country of the Western Balkans.
Albania received equipment for emergency shelter, heaters, water pumps, power generators and personnel. Slovakia delivered energy generators, tents, sleeping bags and first aid kits coordinated and funded by the EU.
This was possible thanks to EU Civil Protection.
From Austria to Croatia – Earthquake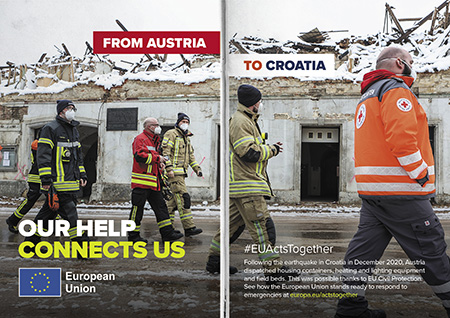 In December 2020, a devastating 6.4-magnitude earthquake hit Croatia.
This major earthquake, the strongest recorded in the past years, was preceded and followed by other shocks.
The damage was widespread: dozens of people injured with some deplorable fatalities and damaging buildings and infrastructure, including medical facilities, and left hundreds of thousands of Croatians without power.
Austria, Bulgaria, Czechia, France, Greece, Hungary, Italy, Lithuania, Portugal, Romania, Slovakia, Slovenia, Sweden and Turkey mobilised immediate help under the coordination of the European Civil Protection Mechanism. Austria dispatched housing containers, lighting systems, sleeping bags and mattresses within a few hours.
This was possible thanks to EU Civil Protection.