2019 Highlights
During 2019, there were two WiFi4EU calls for applications in April and September 2019. More than 10,000 municipalities applied for a WiFi4EU voucher in each call and 5,180 municipalities from across the 30 participating countries received a voucher;
WiFi4EU payments started rolling out and the first municipality to complete and receive a payment was Wiesfleck from Austria;
WiFi4EU Stories featured 18 winning municipalities in different phases of implementation, from 14 participating countries;
Initiated by Commissioner Mariya Gabriel, more than 80 municipalities across Europe received a symbolic WiFi4EU voucher;
More than 70% of the eligible entities in Bulgaria, Croatia, Greece, Ireland, Lithuania, Portugal and Slovenia have received WiFi4EU vouchers;
More than 26,000 eligible entities from the 30 participating countries are currently registered to the WiFi4EU Portal;
More than 1,200 new members have joined the WiFi4EU Community on Futurium, where municipalities and companies give feedback on the initiative and share best practices;
During 2019, six dedicated webinars were hosted for BCOs and Wi-Fi installation companies in order to facilitate and answer questions regarding implementation;
"A Europe fit for the digital age" was listed as one of the priority policy areas of the new European Commission, which WiFi4EU aims to achieve.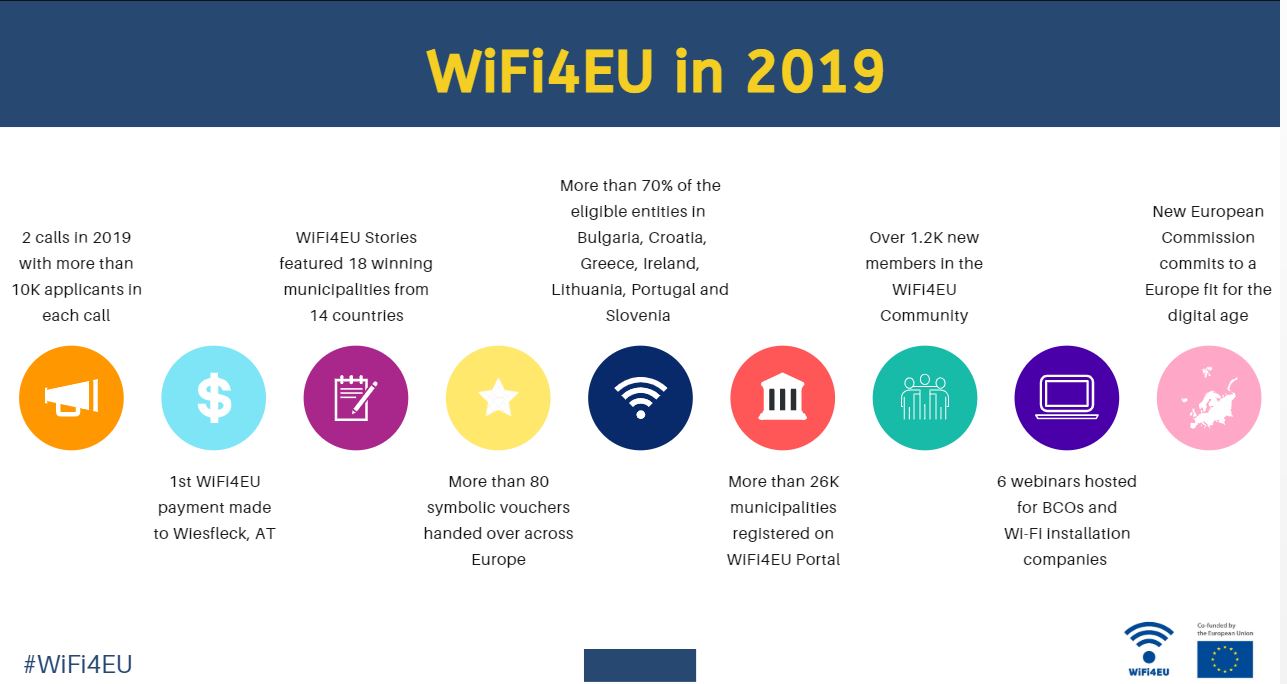 This year proved to be a successful one for the initiative and the participating municipalities, we are now looking ahead to what the new year has in store. In spring of 2020, WiFi4EU Call 4 will give the chance to municipalities from all participating countries to apply and benefit from the initiative.
On behalf of the WiFi4EU team, we would like to wish you all a wonderful holiday season and a happy new year!