Romania's second largest city, Cluj-Napoca is a captivating municipality located in the heart of the historical region of Transylvania. The city, famous for its multicultural environment and effervescent nightlife, was awarded the title of 'European Youth Capital' in 2015 and has ever since gained its place as European cultural and innovation centre. The Romanian municipality is now committed to ensuring access to connectivity and providing services to locals and visitors.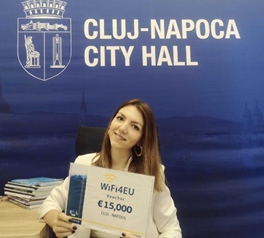 Seeking to know more about the role of connectivity in the city, the WiFi4EU team spoke with Oana Buzatu, spokesperson of Cluj-Napoca City Hall, and Marcel Ielcean, Head of IT and Digital Strategies. Cluj-Napoca is one of the 682 Romanian municipalities to be granted a EUR 15,000 WiFi4EU voucher, which comes as a perfect complement to the municipality's plan to improve the quality of life. "The city has a development strategy that is centered on increasing the quality of life for citizens, therefore all projects that allow us to increase access to connectivity, collaboration, sharing and learning are considered to be important and in the spirit of the strategic goals of the city", explained Buzatu.
After the installation of the WiFi4EU network and the official announcement by the authorities, the positive feedback coming from the population has been overwhelming. According to Buzatu, "the community of Cluj-Napoca is a very connected one, and once the Wi-Fi hotspots were functional, we had an organic adoption from the public". Tourists and visitors are appreciating the offer of free connectivity in the area and the Local Council is hopeful this enthusiasm will raise awareness on the other projects currently funded by the European Union in Cluj-Napoca.
Thanks to the WiFi4EU voucher, 18 hotspots have been installed throughout the city, in public parks and in the main landscapes. The hotspots will provide connectivity not only to visitors but also to locals unable to get access to the internet. As Buzatu explained, "this opportunity solves the issue of accessibility for many people by creating an inclusive context for the inhabitants. At the same time, once we ensure accessibility we can focus into diversifying the ways citizens access the public services and we have already started a policy on digital transformation". Cluj-Napoca has now its eyes set on developing digital services and taking the right steps towards becoming a smart community.