Nestled in the heart of the northwest Aegean Sea, Skiathos is a breath-taking Greek municipality known for its sandy white beaches, sun-kissed olive trees and scenic hiking paths. The island, a dream destination for visitors from all over the world, is committed to improving the tourist experience through tailor-made digital services and WiFi4EU free connectivity.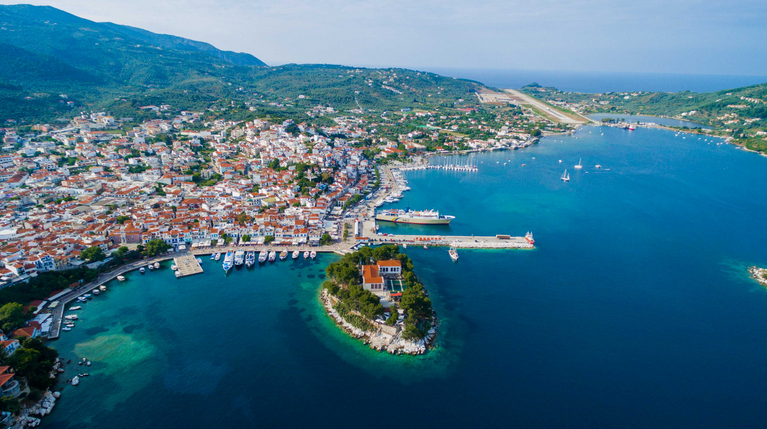 The municipality of Skiathos was granted a EUR 15,000 voucher during the second WiFi4EU call for applications, which took place in April 2019. Thanks to the funding provided by WiFi4EU, the Local Council has been able to install free connectivity in critical areas, to benefit both locals and tourists. Seeking to know more about the impact of the initiative, the WiFi4EU team spoke with Thodoris Tzoumas, Mayor of Skiathos.
The WiFi4EU network in Skiathos was launched on 2 January 2020 and the citizens, who were informed through the local media, have provided an overwhelmingly positive feedback. The newly-installed hotspots cover the old and the new ports of the island, where businesses and travelers can now enjoy the free access to connectivity. As Mayor Tzoumas explained, "the location of the WiFi4EU hotspots has been carefully chosen to serve both citizens and tourists and to create opportunities for growth and innovation".
Throughout the application and installation process, the Skiathos' representatives have focused on "leveraging the voucher to seek sustainable, but also resilient growth, pivoting around the most important constituent: the citizens", revealed the Mayor. In this direction, the municipality has developed a digital strategy that focuses on information and communications technologies with the goal of making the critical infrastructure and services of the city — administration, education, healthcare, public safety, real estate, transportation and utilities — "more aware, interactive, and efficient".
According to Mayor Tzoumas, "the WiFi4EU network was only the first step" to transform Skiathos into a Smart City. The Local Council is now dedicating its efforts to improving decision-making through the use of internet and contributing to the attainment of "a better quality of life for residents and visitors, a higher attractiveness for industry and talent, an environmentally conscious focus on sustainability".