Rokiškis is a charming city in northeastern Lithuania, known for its theater festivals and wood carving tradition. The municipality attracts art enthusiasts and tourists of all ages, who will now be able to access free public connectivity when sightseeing. Rokiškis is in fact the proud winner of a EUR 15,000 WiFi4EU voucher to be used to install Wi-Fi equipment in public spaces.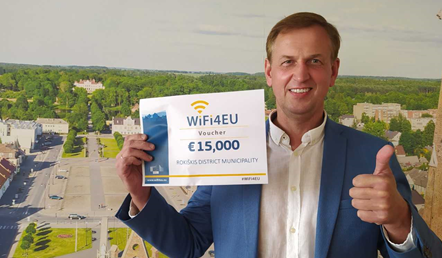 Lithuania's renowned digital-friendly environment and innovation-based culture encompasses not only businesses and ICT companies, but also public administration and citizens. Thanks to the municipalities' commitment to the digital transformation, the country ranks among Member States with the highest WiFi4EU coverage: during the four calls of the initiative, 48 out of 60 Lithuanian entities have been granted a WiFi4EU voucher, including Rokiškis. Eager to know more about the municipality's experience with the European Commission funded initiative, the WiFi4EU team spoke with Ramūnas Godeliauskas, Mayor of Rokiškis, and Irena Mateliene, Chief specialist for cultural affairs, tourism and international relations.
The municipality of Rokiškis officially launched the WiFi4EU network in January 2020 and communicated the news through the website and the local press. The 11 newly installed hotspots provide connectivity to public spaces chosen in collaboration with the citizens: "The spots are community gathering places. They were chosen during discussions with the local community", explained Irena Mateliene. Residents and tourists are able to enjoy free access to Wi-Fi when strolling around the Lionginas Šepka and Velykalnis Community parks, the Independence and Centenary squares, and the Rokiškis Lake.  The hotspots also cover the district hospital and the primary health care center, giving the municipality the chance to further develop e-health services, allowing doctors to get accurate and timely monitoring, and improving the healthcare experience for patients and families.
In addition to improving the daily life of European citizens, the WiFi4EU network can also benefit tourists, as digital technologies are making cultural heritage more accessible in cities like Rokiškis, where the rich history has spurred the creation of numerous museums and archives. For example, thanks to free Wi-Fi, "city visitors can access announcements of current events and exhibitions and stay updated", explained Mateliene. Mayor Godeliauskas is looking forward to taking advantage of all the opportunities WiFi4EU has to offer while the Rokiškis community enjoys free and upgraded connectivity.