Nestled in the heart of Transylvania, Aiton is among the first winners of the fourth WiFi4EU call to complete the installation of the network. The quaint Romanian municipality is proud and excited to be providing free public connectivity to its citizens, covering areas otherwise not served by reliable broadband. Seeking to know more about the impact and benefits of free Wi-Fi, the WiFi4EU team spoke with the Local Council of Aiton and Mayor Nicolae Făgădar.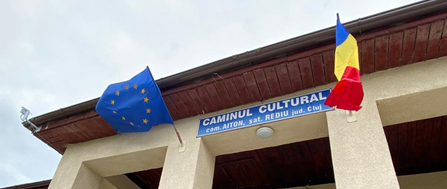 The fourth call of the WiFi4EU initiative took place on 3 June 2020 and granted 947 vouchers worth EUR 15,000 to municipalities from all over Europe. Once the winners were announced in July 2020, the municipality of Aiton started and completed the installation of the WiFi4EU network in record time, eager to improve access to connectivity in the territory and motivated by the enthusiasm of the population. On 24 August 2020, the Local Council officially inaugurated 10 WiFi4EU hotspots located in key areas of the municipality. "We are planning to connect every household", said Mayor Nicolae Făgădar, explaining that the hotspots have been installed in areas only covered by weak internet connection and in the public spaces most frequented by citizens.
Only 30 minutes away from Cluj-Napoca, Aiton is home to 1,085 people and the Local Council is committed to improving the day-to-day quality of life of the population. Reliable connectivity is making a difference for citizens of all ages, especially young people and students, who can more easily access distance learning and remote work opportunities. In addition, thanks to WiFi4EU, the municipality is able to develop e-government services meant to cut red tape and simplify processes.  According to the Mayor, the WiFi4EU network has played a pivotal role during the outbreak of the COVID-19 pandemic: "WiFi4EU is helpful for the online classes and for the people filling online inquiries without coming [to the town hall] and having direct contact with us".
The Local Council of Aiton is proud to be part of the WiFi4EU initiative and is confident that, through this project, the European Union is reaching closer to its citizens: "WiFi4EU represents a success in winning the trust of our citizens for projects founded by European Union", concluded Mayor Făgădar.