Famous for its pristine white sand beaches, mineral waters and pine forest, the Latvian municipality of Jūrmala has a lot to offer to locals and visitors all year round. Among the services that make this town an ideal destination for business and leisure trips, free Wi-Fi allows people to stay connected and take advantage of e-administrations and e-tourism services.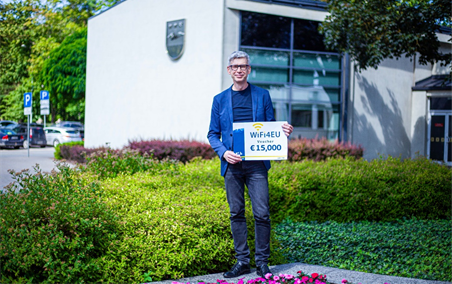 Jūrmala is the proud winner of a WiFi4EU voucher, to be used to install Wi-Fi equipment in public spaces within the municipality. The WiFi4EU team spoke with Mārtiņš Riksis, Head of ITC department, who revealed that the Latvian Ministry of Transport played a key role in galvanizing support for the WiFi4EU initiative and encouraging municipalities to apply. During the four calls for application, 37 Latvian municipalities secured a EUR 15,000 voucher and started to exchange ideas on how to proceed with the implementation phase. In Latvia, the WiFi4EU project has been particularly appreciated by municipalities with a connectivity-focused development strategy, such as Jūrmala. "The Information and Communication Technology Development Plan lays out detailed directions of the city's IT development. Free internet access is a key component of this plan", explained Riksis.
The WiFi4EU network was launched in June 2020 and a map of the 11 Wi-Fi hotspot was made available on the municipality's website. The WiFi4EU hotspots are located in key areas of Jūrmala, such as public transport stops and heavy pedestrian traffic zones. While there could not be an in-person celebration, the municipality made sure to spread the news through a campaign that included buzz on social media, articles in the press, and posters around the city. According to Riksis, the promotional campaign has been very successful and both locals and tourists have been taking advantage of the free Wi-Fi network: "So far, in average, there have been about 750 daily connections with download volume of 30 GB daily".
The municipality of Jūrmala is committed to offer all municipal services in digital form to make sure that all residents and visitors can get what they need at any time. Jūrmala's digital offer paired with WiFi4EU free connectivity has been crucial during the outbreak of the COVID-19 pandemic, when e-administration and remote work and schooling have become the default way to stay productive for most citizens. According to Riksis,"the municipality should not regard the Wi-Fi access point as sole internet access service but plan the next steps for improvement of data network and municipal services". WiFi4EU has indeed been an opportunity for social and economic development for the municipality that hopes to share this experience with other Latvian and European cities: "it is important that this initiative is shared by hundreds of municipalities", concluded Riksis, "running a marathon is easier if you do it with those like-minded."