Home to a UNESCO world heritage site, Stevns is a Danish municipality located on the southeast coast of the Island of Zealand. The WiFi4EU voucher from the European Commission comes as a perfect complement to the municipality's plans to connect communities and improve tourism in the area.
Stevns is among the 25 Danish municipalities that secured a grant during the three calls of the WiFi4EU and is the first municipality in Denmark to complete the implementation of the voucher. The WiFi4EU team spoke with Business and Development Consultant Jakob Splidsboel to know more about the municipality's digital policies. "We are investing strategically in the development of our municipality as a tourism destination. That is why it is important to be able to offer both our own citizens and tourists a good internet experience when they visit our municipality. WiFi4EU was an opportunity to initiate this process", explained Splidsboel.
Tourists from across the globe come to visit Stevns Klint, a white chalk cliff of great geological importance, part of the UNESCO list of world heritage sites. To allow visitors to look for more information on the history of the site, the municipality of Stevns and the selected Wi-Fi installation company have gone the extra mile to deliver an up and running network in time for peak season. The WiFi4EU network was officially inaugurated on 5 July 2019 with a launch event open to the community. The event included biodegradable balloons and "WiFice", a connectivity-inspired ice cream!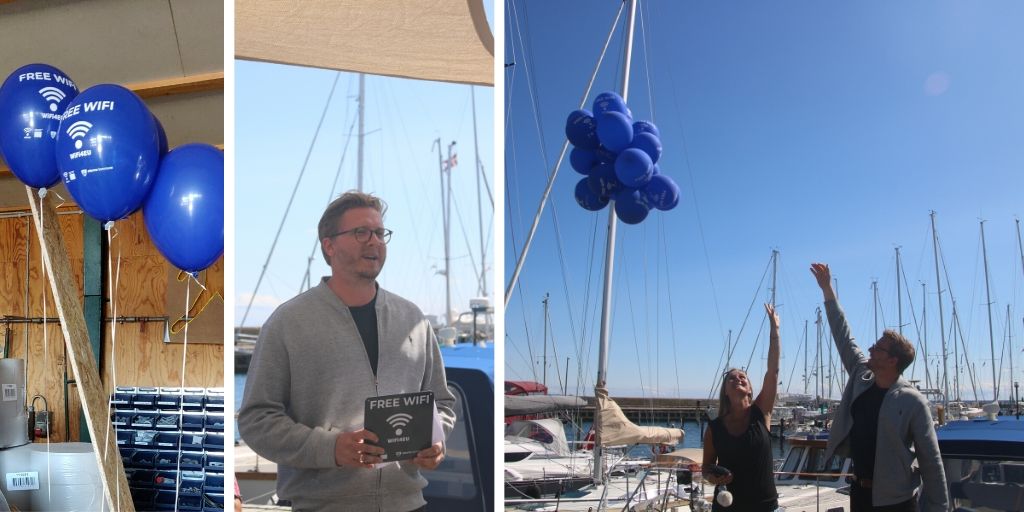 After thorough consideration of the citizens' needs, the Local Council decided to invest the EUR 15,000 WiFi4EU voucher in the port area in Rødvig. The 10 WiFi4EU hotpots have been deployed to cover the marina and fishing port, where not only citizens and tourists, but also sailors from Denmark, Sweden and Germany can take advantage of high-speed free Wi-Fi access.
Since the official launch, the network has been a success and the municipality of Stevns has received positive feedback from the citizens and network users. "It is a concrete example of how the EU can make a difference for citizens", said Jakob Splidsboel, keen to encourage other municipalities across Europe to apply for a WiFi4EU voucher.