Renowned for its medieval castles and digital-friendly environment, Estonia is a champion in the online provision of public services, with almost all governmental services offered online, and an above-average digital literacy. It is no surprise then that Estonia is committed to improving internet connection everywhere in the country, thanks to initiatives such as the European Commission funded WiFi4EU programme.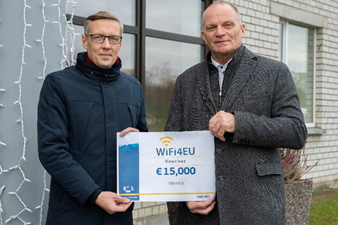 In Estonia, the Internet is an essential part of everyday life: tax returns are handled online, identity cards store digital signatures and cryptographic keys, and online voting for major elections was introduces as early as 2005. With the majority of government services offered online, free public connectivity is crucial for inclusiveness and equality. "Internet should be available to everyone. Doesn't matter what age the person is, or what is their income", said Jelena Katsuba, Head of the PR Department of Maardu. The municipality of Maardu is among the 52 Estonian beneficiaries of WiFi4EU, the European Union scheme that distributes EUR 15,000 vouchers to be used to install Wi-Fi equipment in public spaces. According to Katsuba, WiFi4EU is "unique opportunity to create better links between local governments and people who live in our town. An opportunity to really empower our community with better services".
At the crossroad between the Baltics and Scandinavia, Estonia is home to 1.3 million people and attracts millions of visitors every year. Whether you are visiting the UNESCO protected Old Town in the capital city of Tallinn, or venturing out into the lush green forest that dominates the landscape, Estonia will surprise you with unique opportunities to experience nature while staying connected. The WiFi4EU hotspots are located throughout the country and allow both citizens and tourists to enjoy free connectivity. On a visit to Keila, travellers can take advantage of the hotspots to share photos of the breath-taking waterfalls. Those looking for a calm getaway can head to Rakvere and connect to WiFi4EU from the local spa. In Kuressaare, visitors can look out upon the Baltic Sea and discover more about the numerous art galleries through the tourism portal. In the stunning countryside surrounding towns such as Paide, Rapla and Mustvee, locals are able to stay connected and benefit from a variety of digital services meant to improve daily life for everyone. "Municipalities are guided by the wish to make the lives of people better, to create more links and opportunities", concluded Katsuba, "I really believe that WiFi4EU project is a great example of implemented core value of European Union. Everyone benefits from connectivity".
Have a look at the map and the lists of Estonian beneficiaries: Call 1, Call 2, Call 3, Call 4