At the crossroad of modern and traditional, Czech Republic's innovative spirit has been able to integrate digital technologies to promote its rich cultural heritage and still-thriving folk culture thanks to opportunities such as WiFi4EU.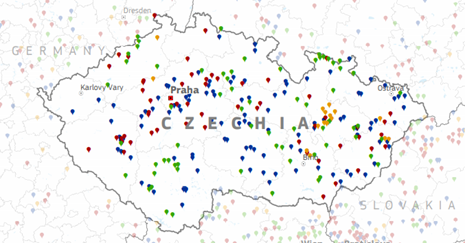 Czechia's forward-thinking strategy for digital transformation - Digital Czechia (Digitální Česko) focuses on the development of high-quality infrastructure, the further expansion of digital services and fostering digital literacy, with the goal of ensuring a smooth integration of digital technologies in the everyday life of citizens and businesses. The European Commission-funded WiFi4EU initiative comes as a perfect complement to Digital Czechia, giving municipalities the opportunity to guide the public administration and local economy through the process of digitisation thanks to free public connectivity. The EUR 15,000 WiFi4EU voucher has allowed 355 Czech municipalities to install free Wi-Fi hotspots in their territory and develop e-services to benefit both locals and visitors. For example, the Local Council of Náměšť na Hané has developed a mobile application that provides an overview of the news, events and interest points in the municipality. According to the Mayor, Marta Husičková, the location of the WiFi4EU hotspots has been carefully chosen to "create opportunities for students and young entrepreneurs". The initiative has also had an impact beyond connectivity: "the European Union is reaching closer to European citizens thanks to the WiFi4EU project", explained the Mayor of Náměšť na Hané.
The WiFi4EU hotspots are located across the 13 regions, bringing connectivity not only to the capital but also to the hundreds of castles and fortresses that make Czech Republic one of Europe's most popular destinations. Tourists of all ages are attracted by the awe-inspiring atmosphere that encompasses the country no matter the season. Thanks to the municipalities' commitment to improve the tourist experience, visitors will now be able to connect to the free public WiFi4EU network throughout Czechia: from the lively urban centre of Prague to the vibrant streets of Brno in Moravia, passing by the baroque architecture of Český Krumlov in South Bohemia. When sipping on one of Czechia's finest brews, do not forget to connect to WiFi4EU and share your memories with family and friends!
Have a look at the lists of Czech beneficiaries: Call 1, Call 2, Call 3, Call 4.