Reach out beyond the sun-kissed beaches and vineyards to discover Cyprus' unwavering commitment to improving connectivity and promoting the digital transformation through EU-coordinated initiatives such as WiFi4EU.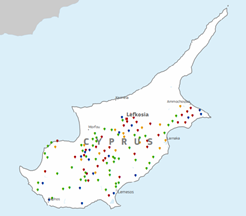 During the four calls of the initiative, 118 Cypriot municipalities have been granted a EUR 15,000 WiFi4EU voucher to install free Wi-Fi hotspots for citizens in public spaces including parks, squares, libraries, health centres and museums. The offering of free connectivity and the improvement of digital infrastructure are a crucial part of the country's new digital strategy. In line with the objectives of the Digital Agenda for Europe, Cyprus' strategy aims to promote the digital transformation in the public and private sector, to increase digital literacy and to close the digital divide. Thanks to the commitment of the Ministry of Research, Innovation and Digital policy, the Ministry of Transport, Communications and Works, and the motivated Local Councils in the country, citizens and visitors can now connect to WiFi4EU hotspots and benefit from e-tourism, e-health and e-government services. "We decided to proceed with the application for WiFi4EU because we wanted to give our citizens and visitors the opportunity to have access to information at any time", explained Doros Antoniou, Mayor of Mesa Geitonia. "Thanks to WiFi4EU, we laid the foundation to become a modern and accessible city, ready to cover the growing needs of our citizens and the growing number of tourists", added George Takkas, Mayor of Sotira.
The hotspots installed by the WiFi4EU beneficiaries are located across the country, allowing tourists to stay connected wherever they go. From the sun-soaked beaches of Pissouri in the South-West to the family-friendly stretches of sand and pebbles near Maroni in the North-East, sunset and sunrise enthusiasts will be able to share their photos with loved ones thanks to WiFi4EU. For hikers and wine lovers, the interior has a lot to offer. In Vouni's cobbled alleys, visitors can take advantage of Wi-Fi to find some of the country's finest wines. In Phini, local artists can use Wi-Fi to set up an online shop to sell their unique pottery. On the scenic walks of Mandria, bird-watchers can enjoy incredible variety of migratory birds without getting lost thanks to WiFi4EU. When travelling around Cyprus to discover its history, food and traditions, do not forget to connect to WiFi4EU to make your trip unforgettable!
Have a look at the lists of Cypriot beneficiaries: Call 1, Call 2, Call 3, Call 4.