Due to the geographical configuration of the country, high-speed broadband development can be a challenge, but Croatia is committed to improve access to connectivity for its citizens and visitors. Between 2018 and 2020, 83% of Croatian municipalities have been granted a EUR 15,000 WIFi4EU voucher that will cover the equipment and installation costs of free Wi-Fi hotspots.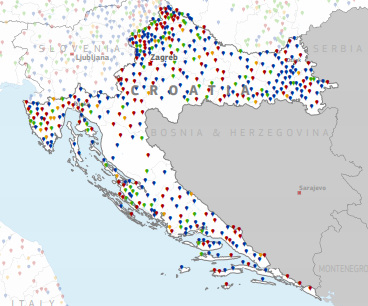 In the last years, Croatia has made incredible progress in the area of electronic communications thanks to the Ministry of Maritime Affairs, Transport and Infrastructure, which is responsible for the Croatian National Broadband Plan, and the Department for International Cooperation and European Policies, which constantly monitors European tenders and grants such as WiFi4EU. Among the many initiatives developed to improve the offer of digital services, the digitalization of schools has proven to be the most crucial one during the outbreak of the COVID-19 pandemic. The government has been providing schools with digital technology and equipment to increase the digital competences of students and teachers and create conditions for a transition to distance learning. In this context, universal access to internet became a priority: "Life without the Internet today is almost unthinkable. Therefore, our role as local government is to provide for our citizens and the increasing number of tourists visiting our city the infrastructure to enable them to use the internet at any time", explained Dražen Stepanov, Digital Officer of Pula.
The 462 WiFi4EU beneficiaries in Croatia are homogenously distributed across the territory, covering both the Mediterranean coast and the limestone mountains. From food experts to water sports enthusiasts, from history lovers to experienced hikers, Croatian food and well-known hospitality attract all kinds of tourists throughout the year. WiFi4EU will allow visitors to stay connected and take advantage of e-tourism services everywhere they go. The WiFi4EU network will cover the rocky beaches of Istria down to breath-taking Dubrovnik, passing through Rijeka, the gateway to Croatia's stunning islands. Dotted along the coast of the Adriatic Sea, Mljet, Brač, Hvar, Korčula, Vis, Krk, Dugi otok, and Lošinj are among the Croatian islands set to offer free Wi-Fi connectivity to locals and tourists. During your time exploring the beauty of Croatia, don't miss the chance to browse for free and share your memories with friends and family thanks to WiFi4EU!
Have a look at the lists of Croatia beneficiaries: Call 1, Call 2, Call 3, Call 4.