To measure precise changes in wind velocities lasers can be used to probe the atmosphere at long ranges. The changing wind patterns reflect a small amount of light back to the instrument at a slightly different color from the outgoing light. This technique is known as Doppler LIDAR (Doppler Light Detection and Ranging). 
MicroR Systems based in Lausanne, Switzerland is developing compact ultra-stable lasers based on their optical microresonator technology for range of meteorologically relevant wavelengths. Optical microresonator are tiny optical devices that can be used to greatly enhance the purity of a laser's color for applications in frequency modulated continuous wave LIDAR systems.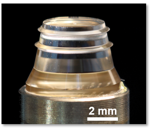 A crystalline optical microresonator that can be used to create ultra-stable lasers
This technology was developed with support from the EIC FET Open under project OPTIMISM. For more information, please visit MicroR website.