eStandards is a collaborative project funded by the European Union under the Horizon 2020 programme. Its outcome supports the European Commission's policy work on the Digital Single Market and specifically on eHealth. On 26-27 of June 2017, the eStandards project (www.eStandards-project.eu) held its final conference, which was hosted at the CEN/TC 251 premises in Brussels.
The final eStandards conference comprised two days packed with workshop sessions for discussion and debate among a multi-stakeholder audience including standards developers, health ministry eHealth experts, health professional organisations, patient and public representative organisations, ICT vendor associations and clinical academics. The conference addressed how digital health standards should evolve, building on current best practices to support large-scale eHealth deployment in Europe and globally.
The eStandards roadmap blossomed out of the evidence of best practices in the implementation of eHealth projects, broad international collaboration exemplified in the joint work of CEN and HL7 on the international patient summary project, guidance on clinical content development and quality management in interoperability testing, and an analysis of socioeconomic factors affecting successful cooperation of users with vendors.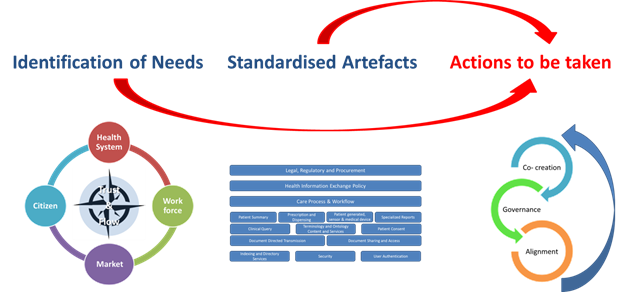 The eStandards roadmap provides an agile process framework, which links the needs for a trusted flow of data from the perspectives of the health system, the citizen, the workforce, and the market, to standardised artefacts and interlocked actions in co-creation, governance, and alignment (CGA). This roadmap is atypical and dynamic, in the sense that it does not dictate or assign actions that are specific, measurable, actionable, realistic, and timed.
Specific roadmaps will need to be taken up by digital health initiatives that actively engage the actors that strive for tangible improvements in health and healthcare, engaging the people and organizations that "can make it happen". While policy makers and standardization bodies belong to this group of stakeholders, the efforts should be driven in a way that secures trust and flow of health data in the daily practice of health management and healthcare delivery. The objective to realise value for the health of individuals and society will then guide the further development and use of eStandards.
In explaining Co-creation, Petra Wilson of Health Partners Connect and former CEO of the International Diabetes Federation, explains: "Co-creation is a collaborative process where players from across different sectors – such as companies, social sector organizations, financial institutions and government bodies – come together to co-design and co-implement new or improved products and services that address essential needs of underserved populations. While the process is co-creation – peers working across sectors hand in hand to design and implement solutions based on a shared vision – the result is addressing society's challenges at scale, while achieving economic gains. Co-creation represents a fundamental shift in interaction between the business, social, and public sectors to create shared value. True co-creation across sectors will result in important transformations within the entities involved. Partners begin to capitalize on one another's complementary assets and experiences, and as values begin to cross-pollinate, internal leadership styles and organizational structures evolve. Co-creation therefore becomes a powerful force for internal culture change for all entities within the partnership."
Petra provided examples of co-creation: In the "You Design It, We Make It" programme: LEGO invites customers to join its innovation community and propose designs. Also, the Specialisterne Foundation works with employers to adopt hybrid value systems, in order to create one million jobs globally for people with autism who often have valuable skills for the labour market, such as an outstanding memory or a remarkable eye for details. She also mentioned the story of the Ferarri team that was brought in to share the experience of rapid and co-ordinated pit-stop management and apply this to the redesign and optimise processes and performance in Great Ormond Street Hospital's surgical and intensive care units.
Governance describes how regions and organizations ensure they run efficiently and effectively. That includes maintaining the strategic direction of policy development and implementation; detecting and correcting undesirable trends and distortions; articulating the case for health in national development; regulating the behaviour of actors from healthcare financiers to healthcare providers; and establishing transparent and effective accountability mechanisms. The instruments of governance range from international and European law, all the way down to procedures and protocols in the smallest units of organizations. They cover aspects such as certification of professionals, product and workplace safety requirements, as well as standards and specifications for digital health interoperability. Governance actions seek to develop and review the necessary measures to ensure that eStandards will be deployed at scale, because they are supported and, when needed, required by regulations and practice guidelines.
Alignment has historically been discussed in business literature and tends to focus on the integration of business strategy and delivery systems (including IT systems). We also refer to alignment as fit, integration, harmony, linkage, and fusion. "Alignment drives the iterative aspect of co-creation and serves as the 'reality check' aspect of governance" explains Petra. It ensures the sustained usability and use of eStandards across their lifecycle.
Four focus areas of specific interest were selected for further analysis, due to their special relevance to healthcare within the European policy setting:
Identification of medicinal products (IDMP) undertaken as an implementation initiative involving the European Medicines Agency (EMA), serves the goals of good pharmacovigilance practices across Europe: making sure that medications don't harm patients. Meanwhile proper identification of medicinal products also plays an important role in the delivery of care, the safe prescription of medication, and for measuring costs and outcomes at healthcare system level at Member States level and the level of cross-border healthcare provision.
Patient Summary for unplanned and emergency care, together with cross border ePrescription, has been a top priority for the European eHealth Network in setting up the eHealth Digital Services Infrastructure and connecting Member states to safely deliver cross border care.
Chronic Disease Management is top concern for practitioners and policy makers across the world, and the Joint Action on Chronic Disease Management (JA-CHRODIS) underlined this importance. Making sure advances in prevention and population health are shared and adopted quickly requires new ways of looking at empowering patients and their care providers.
European Reference Networks (ERNs) for rare diseases are already a main topic in the 2011 European Directive on the application of patients' rights in cross-border healthcare. Patients within Europe should have access to the sparse knowledge on rare diseases and be diagnosed and treated quickly. The knowledge should travel, rather than the patient.
In sessions dedicated to each of these focus areas, after a short introduction, invited experts for each of the focus areas delivered lightning ninety second/one slide interventions on their sense of co-creation, governance, and alignment as applied to the topic at hand. The Co-creation-Governance-Alignment (CGA) framework was very well received and conference participants provided important examples and insights. The lively discussions showed the value of the eStandards Roadmap as a process framework. The dedication of the roadmap to Henk Bakker, an ambassador of the Personal Health Record program in the Netherlands, who unfortunately did not live to see his dream of connected health become a reality, deeply moved the participants.
Catherine Chronaki from HL7 Foundation and scientific lead of the eStandards project mentioned that, if we start thinking of "Standards as infrastructure for innovation, standards organisations need to work with digital health stakeholders and leverage different speeds of development, dynamic governance, and active alignment."
The two day program was closed by Prof. Dipak Kalra, President of EuroRec, who noted: "What I have found truly remarkable about this conference is that all of the standards bodies represented here have emphasised the centrality of patients and the importance of engaging patients and citizens in the future development of standards, so that they can access and use their own health data, to become empowered players in their own wellness and prevention, health and healthcare."
Video interview with Henk Bakker
Related documents: