Devices that route microwave signals are essential tools in engineering, with applications ranging from radio communications and radars to superconducting quantum circuits. In particular, isolators and circulators, which let signals flow in one direction but block them in the other, are needed to protect sensitive equipment from harm.
Present‐day microwave circulators typically rely on ferrite materials and strong magnetic fields – rendering them impractical to use with superconducting qubits, one of the leading candidates to form the building blocks of a quantum computer ‐ and cannot easily be integrated on‐chip using conventional fabrication methods.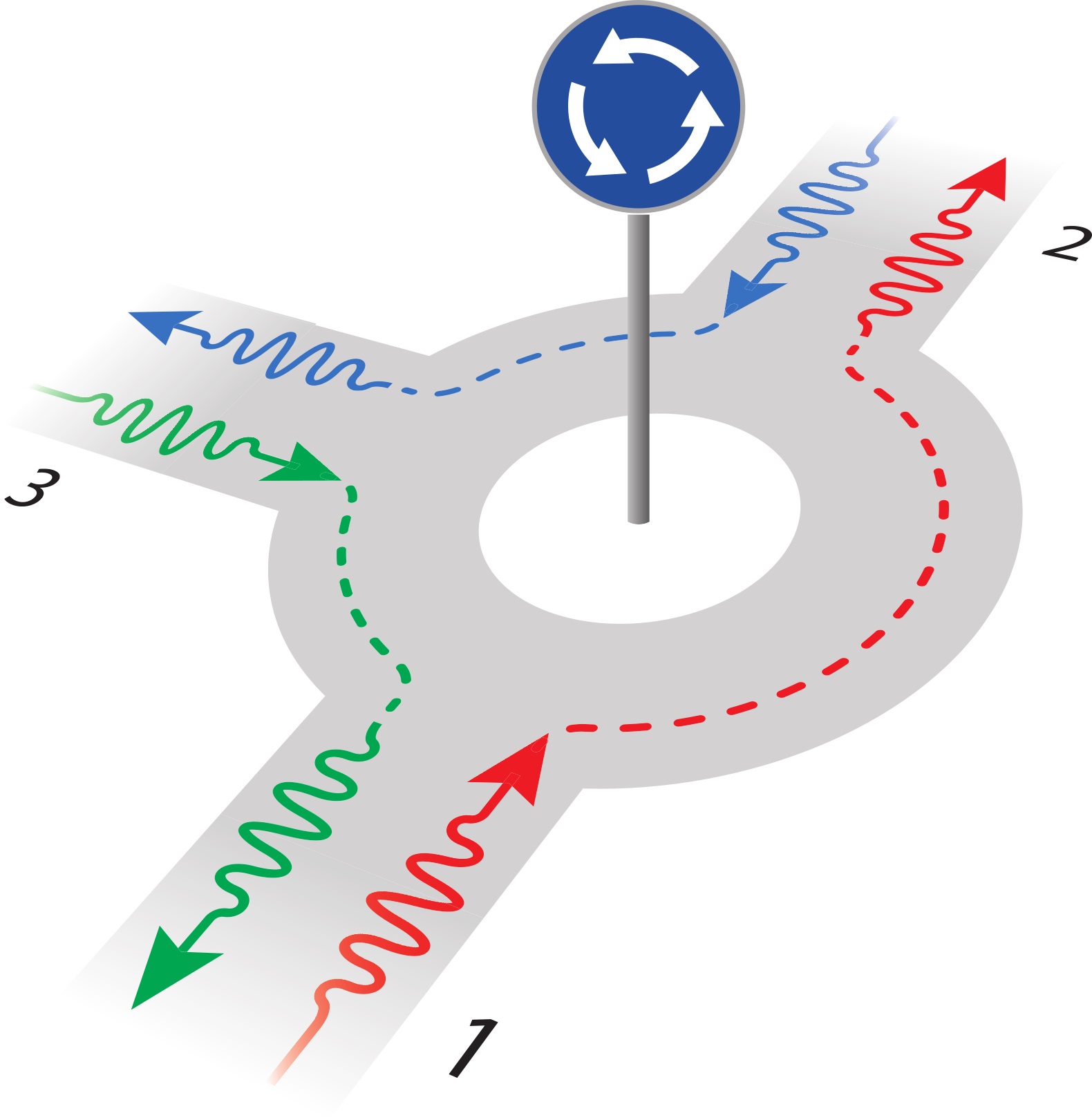 Using radiation pressure, scientists have also built devices that act as circulators, around which microwaves can only flow in one direction. Figure courtesy IST (Austria) / Johannes Fink.
Electromechanical devices, on the other hand, have the advantages of being microscopic in size, can be fabricated in a way that enables them to interact with superconducting quantum processors, and require no magnetic fields to operate. Two separate teams of researchers working within HOT, one from the École Polytechnique Fédérale de Lausanne (EPFL) and the University of Cambridge, and one from the Institute of Science and Technology in Austria have separately shown how to produce nonreciprocal devices for microwave radiation in superconducting electromechanical circuits utilizing multiple coupled electromagnetic and mechanical modes. Using radiation pressure, the push that is exerted upon microscopic objects when electromagnetic radiation is shone on them, they demonstrated signal processing devices that could act as isolators or circulators.
The devices are reconfigurable – the direction of propagation can be chosen on‐demand – and do not require any external magnetic field. The concept to achieve nonreciprocal propagation of microwaves in such manner is general and can be extended to achieve additional functionalities such as directional amplification as well as quantum limited operation.
The optomechanical isolators and circulators demonstrated by researchers within HOT join other prototypes – such as those using Josephson junctions – that might form a new platform to build quantum‐limited, on‐chip nonreciprocal devices suitable for integration in a scalable superconducting quantum computer.
These finding have been published in two Nature papers (article 1 and article 2).

Project
Hybrid Optomechanical Technologies
Project coordinator
Prof. Tobias Kippenberg, EPFL