The First Round of INNO4COV-19 Open Call was launched on the 2nd of November 2020 with cut-off date on the 30th of November. The Open Call aim is to accelerate the development and commercialization of innovative solutions to tackle COVID-19. 

A total of 135 applications were submitted by applicants from 21 different European countries, being the majority of applicants SME and Startups.  After a first eligibility check, a total of 112 applications were sent for the full evaluation process, resulting in 18 proposals recommended for funding (16% success rate).
 
The total amount funded in the OpenCall First Round is EUR  1,770,802.30.
The selected proposals for the first round of  INNO4COV-19 Open Call will be working on the development and implementation of innovative technologies to fight COVID-19 in four technology domain: Innovative diagnostic and screening systems, environmental survelliance, Sensors & Devices for Telemedicine and Telepresence and Protective equipment for People and safer Public.
The 18 succesful proposals: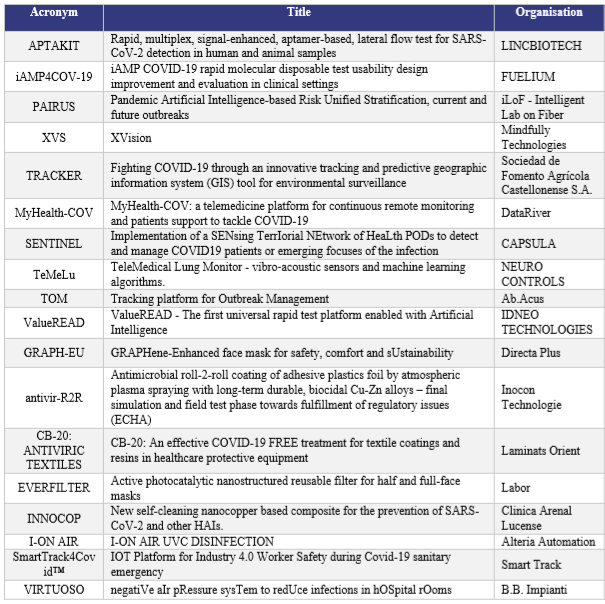 All the details of the projects selected for funding of the First Round the Open Call are publicly available on Inno4cov-19 website.
INNO4COV-19 Open Call-Key Date UPDATE
Due to the high number of relevant applications in the first INNO4COVID-19 Open Call, and to speed up the emergency actions to tackle COVID-19, the second and third rounds of INNO4COV-19 Open Call have been merged in a single cut-off date.
Final Round date: 30th April 2021 (17h00 CET)
Related content