The EOSC portal will act as a virtual environment for researchers to access, store, analyse and re-use data for research, innovation and educational purposes across Europe and academic disciplines. The aim is to develop Europe's global leadership in research data management and ensure that European scientists reap the full benefits of data-driven science.
To ensure the timely development of the EOSC, guidelines on governance and financing mechanisms have been defined by the European Commission in the EOSC Implementation Roadmap of March 2018. The roadmap focuses on six strategic action lines: a) architecture, (b) data, (c) services, (d) access and interfaces, (e) rules and (f) governance.
EOSC-hub and OpenAIRE-Advance, as two of the driving forces behind the EOSC, are already contributing to the six strategic directions as follows: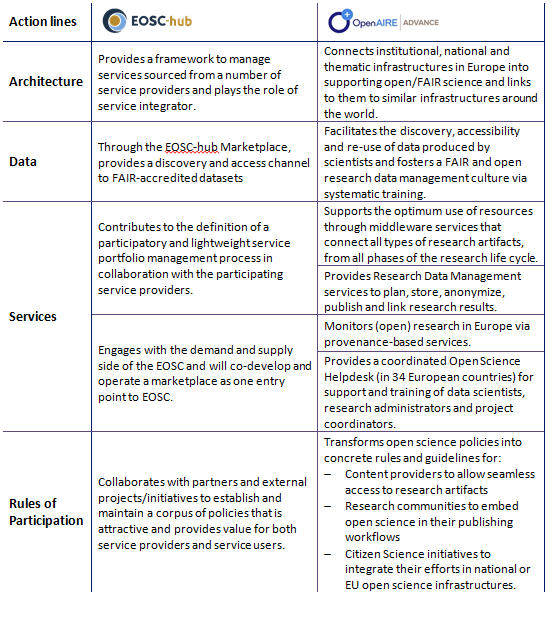 Background
EOSC-hub and OpenAIRE-Advance are two projects financed by Horizon 2020, the R&D funding program of the European Union. They develop and provide services to make the life of researchers easier.
OpenAIRE-Advance provides tools & services to promote open access and open research data policies across Europe and guarantee that research outputs are easily accessible, linked and re-usable.
EOSC-hub brings together major EU research infrastructures to create the Hub: a single contact point to access, use & reuse a broad spectrum of resources for advanced data-driven research.
In the development of the EOSC portal as well as in other areas of activity, these two projects are closely collaborating and building on the achievements and expertise of other Horizon 2020 projects such as eInfraCentral and EOSC-pilot.
More information
Related documents: