The new Horizon 2020 Work Programme covering 'Societal Challenge 1: Health, demographic change and wellbeing' is available (total budget €658 Million) and the calls have been published on the Participant Portal.
Here is a selection of funding opportunities that have ICT for Health and Wellbeing as their main theme. Except for the SME instrument, all of them have a single-stage deadline model, meaning there is one deadline and the proposals will be evaluated in only one stage.
SME Instrument
Topic: Accelerating market introduction of ICT solutions for Health, Well-Being and Ageing Well (SMEInst-06-2016-2017). The challenge of this topic is to help overcome the current gaps in exploitation of promising research results in ICT for Health, Wellbeing and Ageing well, and to stimulate increased availability and market uptake of relevant ICT products and services. Deadline: This topic has multiple deadlines ('cut-off dates').
Research & Innovation Actions
Coordination and Support Actions
Stimulating EU innovation by procurement & inducement prize
Topic: eHealth innovation in empowering the patient (SC1-PM-12-2016:PCP). PCP Pre-Commercial Procurement. Deadline: 16 February 2016 17:00:00 (Brussels time).
Topic: PPI for uptake of standards for the exchange of digitalised healthcare records (SC1-PM-19-2017). Public Procurement of Innovative solutions (PPI). Opening date: 8 November 2016; Deadline: 14 March 2017 17:00:00 (Brussels time).
Topic: eHealth Food Scanner (HOA7-2015). 1 Million Inducement Prize. Deadline: 9 March 2016 17:00:00 (Brussels time).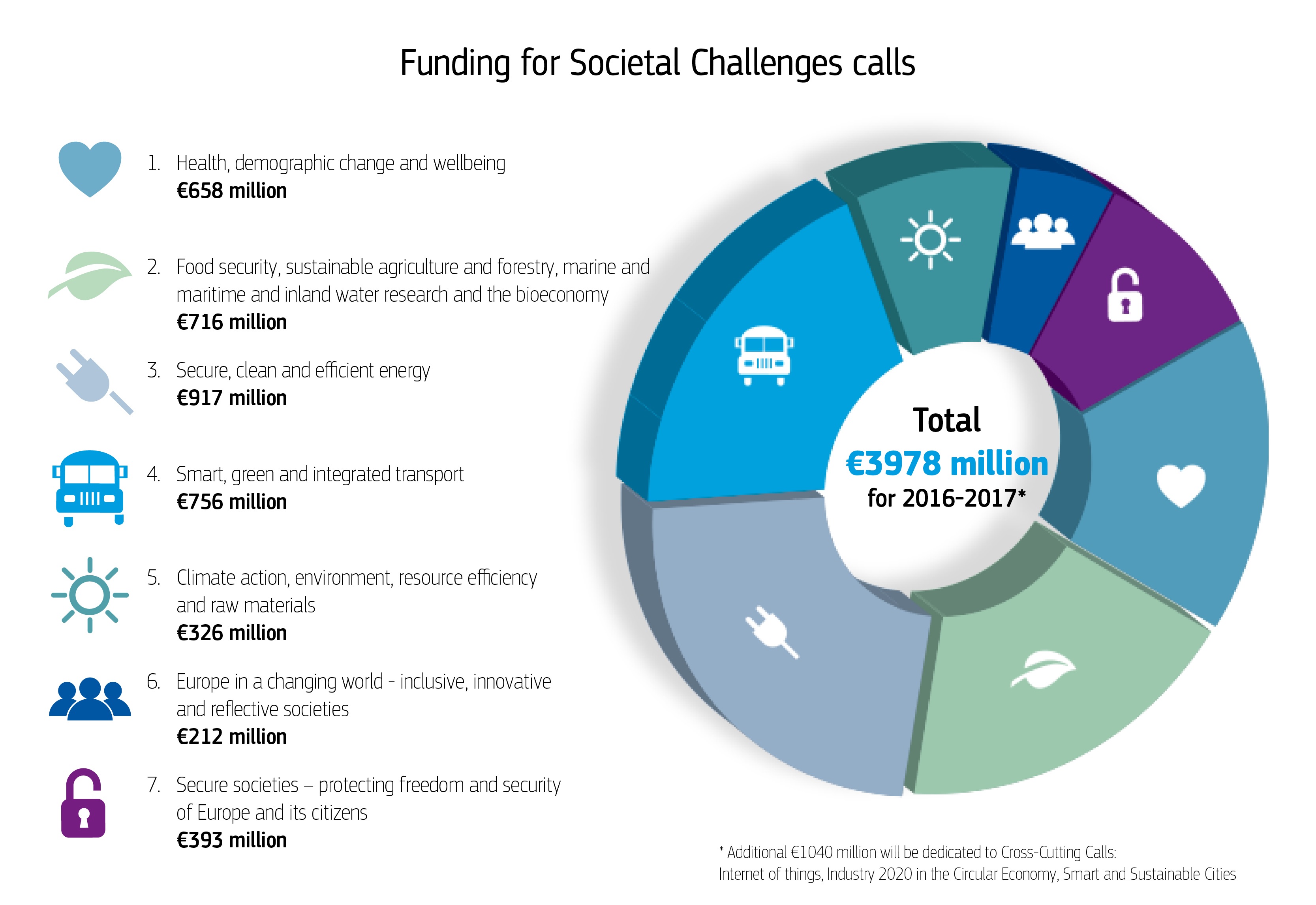 Background
The two-year work programme for Societal Challenge 1 - Health, demographic change and wellbeing (2016-2017) has been published on 14 October 2015 and contains funding opportunities for health & wellbeing projects. It takes the political priorities for now and the future of the European Union into account.
On top of that, consulting stakeholders was an integral part of the programming process. Societal Challenge 1 particularly considered the following inputs:
Advisory Group: A large part of the input came from the Report 'Advice for 2016/2017' of the Advisory Group for Societal Challenge 1, "Health, Demographic Change and Wellbeing" (adopted by the Advisory Group on 25 July 2014).
Targeted consultation of stakeholders: A targeted stakeholders' consultation was open between 14 August and 20 September 2014. Over 260 different suggestions were made by both European level associations and national level organisations such as individual companies, universities or research organisations.
Amongst the contributions to the consultation there was a clear consensus on the need to consider ageing from cradle to grave, with a development approach; support for a main priority on personalised medicine and for the launch of an action on Human Bio-Monitoring.
Furthermore the research activities and agendas of the European Joint Technology Initiative on Innovative Medicines (IMI-2); of the Ambient Assisted Living (AAL) and of the European Developing countries Clinical Trials Partnership (EDCTP) were taken into account to avoid overlaps and create synergies with the SC1 Work Programme.
Links: