The number of patients with co-existing chronic conditions in Europe is steadily rising. Efficient management and better coordination of care plans between healthcare sectors is thus of high importance. The PICASO project aims to develop information and communication technologies which meet these demands, by supporting a continuum of care from hospitals and outpatient clinic to the home.
A care service platform
The PICASO project aims to become a Europe-wide Continuum of Care service platform that:
will improve cooperation and exchange of knowledge between professional caregivers in health, rehabilitation and social care domains and actively include patients and their relatives in the integrated care settings thus supporting patient empowerment and self-care;

will bring about improvements in health outcomes, daily activities, and quality of life of older persons with multi-morbidities by personalising care management programmes to specific characteristics of the patients' profiles and support adherence to care plans at the point of need;

will reinforce medical knowledge and create new care models for management and treatment of patients with multi-morbidity conditions;

will allow more cost-effective care management through increased skills and collaboration of care professionals and more automated and efficient workflows, which eventually will lead to better health outcome and a reduction in hospitals admissions, and thus contributing significantly to the sustainability of health and social care systems in Europe.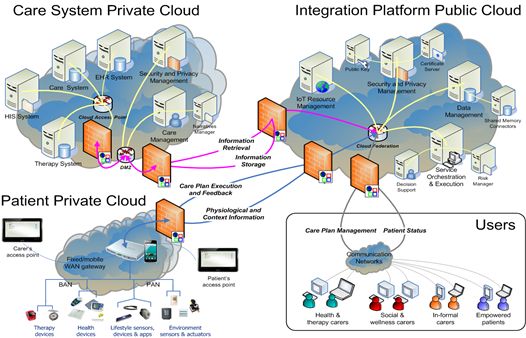 Demonstrated results and Data privacy
To demonstrate the platform and its wide applicability, the technologies will be trialled in two different national settings with different patient groups, enrolling patients with Parkinson's and Rheumatoid Arthritis. Both groups have Cardiovascular Diseases as co-morbidities, sharing the complexity of treating co-occurring diseases, also known as multimorbidities.
The PICASO platform consists of an Integrated Care Platform, a Data Management Platform and a Multi-Morbidity Decision Tool. It is a service oriented, ICT-based integration platform based on an orchestration of care services which is dynamic and personalised. The method for sharing patient information between all relevant formal and informal care providers is by using a unique, trust-federated solution which overcomes the problem of data privacy in cloud based health systems.
Partners
The project consortium includes research institutes, universities and industry experts from Belgium, Denmark, Germany, Italy, Slovakia and Sweden.
This H2020 project will run for four years with a total EU budget of € 4,999,992.50
Project
A Personalised Integrated Care Approach for Service Organisations and Care Models for Patients with Multi-Morbidity and Chronic Conditions
Project coordinator
The Fraunhofer-Gesellschaft zur Förderung der angewandten Forschung e.V.