The Amsterdam Innovation Camp is an instrument for addressing societal challenges in an open innovation context. Through an entrepreneurial discovery process, the Camp develops breakthrough ideas and insights.
The Amsterdam Innovation Camp is organized with the support of Amsterdam University of Applied Sciences, the Committee of the Regions, DG Connect, International Initiatives for Societal Innovation (I2SI), the New Club of Paris, and OISPG.
This Camp for Societal Innovation brings people from different countries, backgrounds and diverse expertise areas together to work in dedicated teams for 3 days, to address real world challenges.
At the Camp, participants work with content experts, direct stakeholders and a growing global community of open innovation practitioners to discover new ways to address real world challenges brought by the European Commission's DG Connect,   Amsterdam University of Applied Sciences, and Committee of the Regions. Facilitators will guide the teams through a self-organizing work process to enrich promising ideas and design the follow-through process to move them forward in active prototyping after the camp.
The Camp is intended as the initial step of a rapid realization process, which aims at taking ideas from post-it to prototype to project within 9 months.
Amsterdam Innovation Camp is open for people with relevant expertise and the desire to pursue innovation in practice. We welcome applications from everyone passionate about addressing societal challenges through open innovation, practical wisdom and innovation-ecosystem thinking.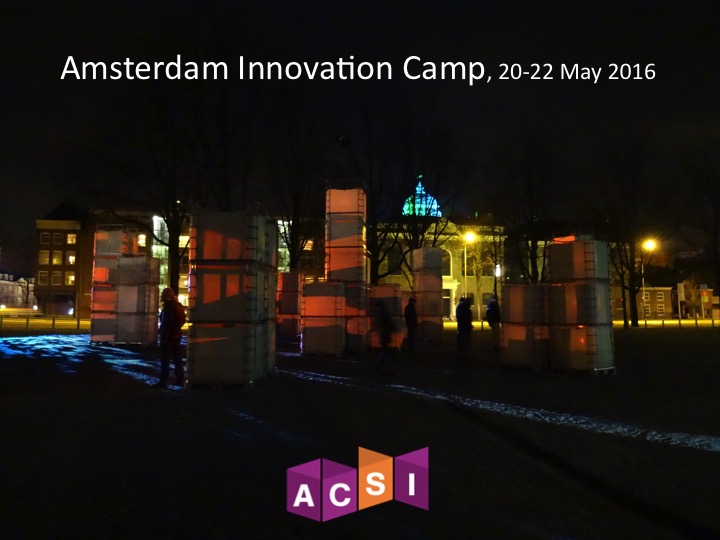 Amsterdam Action Camp challenges 2016
How to measure and model the impact of open innovation 2.0: Proper indicators help to focus research and innovation investments and indicate areas with real potential for long-term impact on wellbeing, jobs, growth and sustainable competiveness. What new kinds of indicators do we need to measure open innovation impact? How can we use OI 2.0 to enhance value creation in the creative commons?
Open Innovation 2.0 & the New Corporates: How can creativity drive new business opportunities, breakthrough products and innovative services? How can design bring business, citizens, academia and the public sector together to develop the city of the future?
Societal Innovation Camps for regional challenges: How to design a series of innovation camps across Europe to deal effectively with societal challenges and trans-regional innovation in Europe? How can we provide a systemic infrastructure for supporting societal innovation in an effective and affordable way?
Participatory Urban Agenda: How can cities and regions work together on innovative ways of engaging citizens through 'citizen dialogues' and other bottom-up activities, in order to provide fresh ideas and insights for implementing Europe's Urban Agenda?
Registration for the Camp
There are a limited number of places available at the Amsterdam Innovation Camp.
Please indicate your interest in participating with a short email to hankkune@educore.nl describing your motivation to join the Camp, and your relevant expertise and potential contribution.
Practical information
The Camp begins at 09:30 on May 20th, and concludes at 16:00 on May 22nd
Taking part is a commitment to work with your team for the entire three days.
There is no participation fee.
Participants are expected to cover their own travel and accommodation expenses.
The Camp with take place on Amsterdam's Knowledge Mile, at an inspiring environment that is part of the Amsterdam University of Applied Sciences.  
Some suggestions about hotels for Camp participants
Participants from abroad should plan to arrive on the 19th May. There will be an informal reception that evening.
Open Innovation 2.0 Conference
The 4th international Open Innovation 2.0 Conference 2016 will take place immediately after the Amsterdam Action Camp, on 23-24 May 2016 in Amsterdam. This event welcomes innovation experts, policy-makers, people from academia and citizens to deal with diverse action-oriented themes.