On 20 September 2017 the European Commission launched the Innovation Radar prize 2017. This initiative of the European Commission aims to celebrate high potential innovations – and the innovators behind them – that were developed in EU-funded research and innovation projects.
48 of the best innovators made the longlist for the prize and were competing in five categories. These SMEs, university teams, spinoffs and start-ups reflect the diversity of EU-funded research and innovation and come from every corner of Europe.
The first stage of the competition took place over the last 4 weeks when the public could vote on the Futurium website for the innovators and innovations on the longlist that impressed them the most. The polls closed last night at midnight and over 62 500 votes were cast by the public. The 20 innovators from the original 48 who secured the most votes in their category and who will now proceed to the Innovation Radar Prize final are: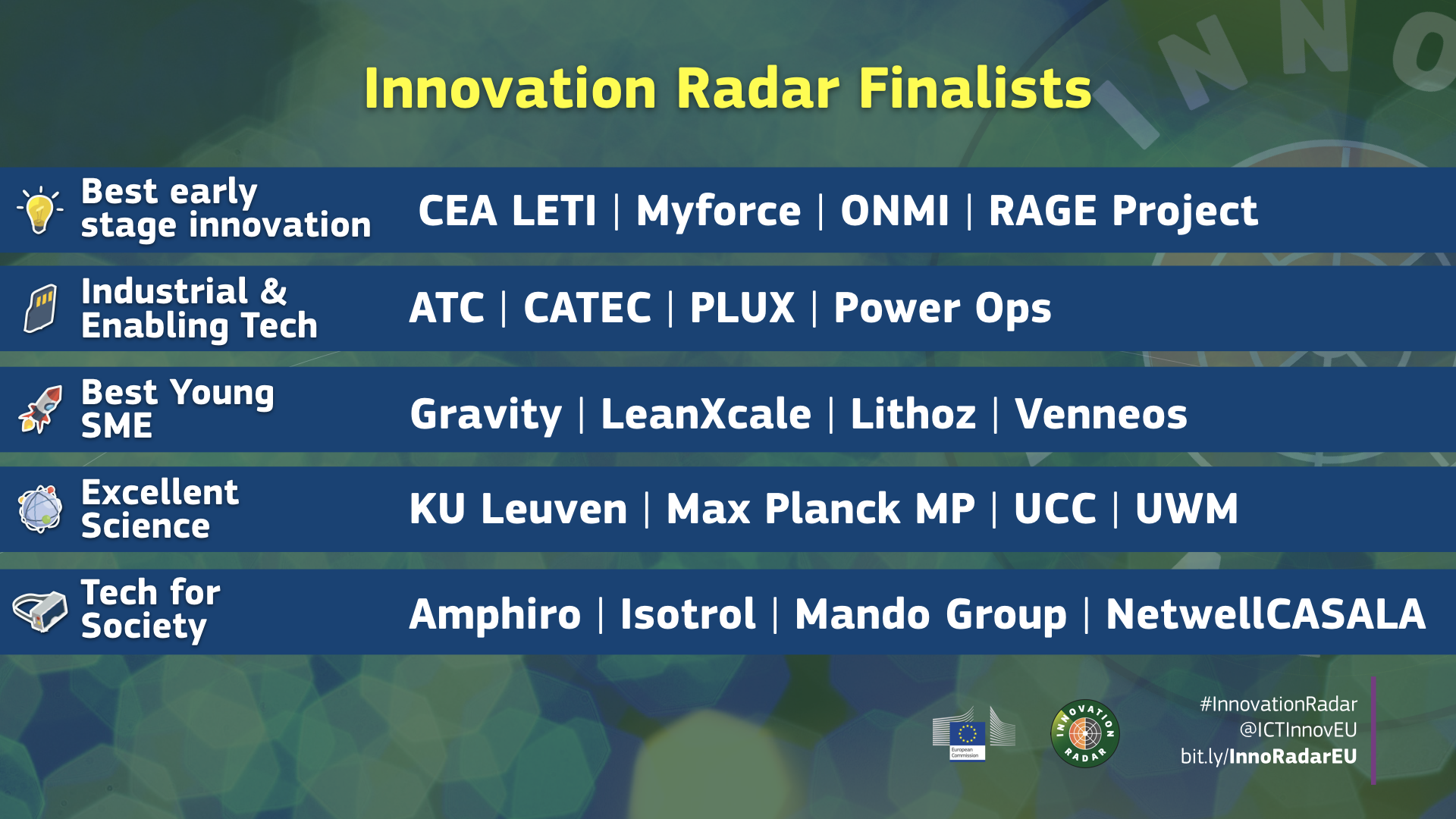 The Innovation Radar Prize final takes place at the ICT Proposers Day event in Budapest on the morning of 9 November 2017. In Budapest the 20 finalists will get to pitch to a panel of investors and entrepreneurs their EU-supported innovation and their plans to get it 'out of the lab and into the market'.
The jury will decide on a winner in each of the 5 categories. One of these winners will also be awarded the overall 2017 Innovation Radar Prize. This overall winner will then be featured on a Euronews programme about their innovation and its market potential.
In addition to this a special 'public choice' award for the best pitch, as appreciated by those who attend the pitching session, will be presented in Budapest.
To help the finalists in the preparation of their pitches, experts and professionals from the Enterprise Europe Network (EEN) will offer targeted support and advice. The EEN is the world's largest support network for small and medium-sized enterprises (SMEs) and brings together 3000 experts from more than 600 member organisations.
The winners will be announced on this website on 9 November 2017.