This EU funded FET Flagship will run for 10 years with a budget of 1.2 billion euro. It should deliver an integrative view of neuroscience with a better understanding of how the brain works; a future medicine in which one should be able to develop techniques for the objective diagnosis of brain's diseases, to understand the underlying mechanisms and speed up the research for new treatment and finally, develop a new generation of brain-inspired computers.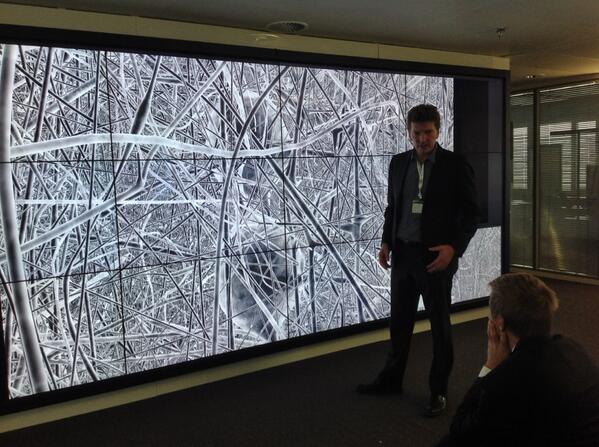 Visualising the Human Brain has already started.
In its first funded phase, the HBP will run for 2,5 years with a EU contribution of 54 million euro. By the end of this phase it will deliver the basic tools for working together, integrate all efforts, data and models around six platforms: neuroinformatics, brain simulation, high performance computing, medical informatics, neuromorphic computing and neurorobotics.
HBP's coordinating institution is EPFL from Switzerland. EPFL's ad interim president, Philippe Gillet expressed the institution's full commitment to support this project and take it to port. Zoran Stancic, DG CONECT Deputy Director General, outlined the expectations from the EU on the need to be open and integrative, collaborating with Member States and their funding agencies to seek the best scientific, technological and societal impact. These views were shared by Philippe Baptiste, strategy director of the French Ministry of Research and Higher Education. Jean-Yves Berthou from the French research agency presented FLAGERA, the existing ERANET that serves as the vehicle for collaboration with and across member states.
The project does not start from zero; in fact, they have a solid background of work already done that will no doubt help them; they also showed that they know what the need to do; the challenge is the scale of the task and putting all data and models together, making these 80 research institutions work together.
The project is led by three outstanding co-directors, Henry Markram on the neuroscience, KarlHeinz Meier on the computing and Richard Frakowiak on the medicine part. These are supported by strong leaders in each of the sub-projects; indeed the project gives confidence it has the human capability to carry it to a successful end.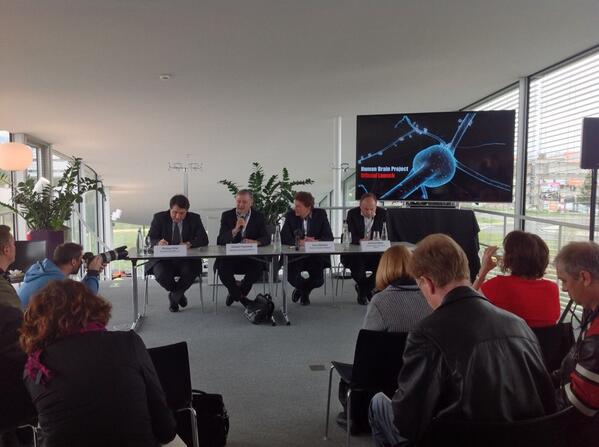 HBP kick-off press conference: from left:
P. Gillet, R. Frackowiak, H. Markram, K. Meier
There is also a real will to integrate all different trends, models, data and most important people. During the summit there was a presentation of the first version of the common workbench tool that will be used for collaborative working.
There is also the right style of management to get people involved and working together; the first general assembly was a living proof of the inclusiveness and attitude of the coordinator, and by extent, of the project.
The project and particularly EPFL have gone to great extend in employing new people for the management, outreach and program office. These people are starting now and they are doing a good job. HBP has employed a professional communication manager and a chief relation officer.
Henry Markram made it crystal clear that the project has a policy of openness in data, models and papers; the understanding is that they will try their best to publish in open journals with their data and models.
In summary, a very good first impression: the project seems to be on the way, it has strong teams and individuals that want to collaborate and integrate their work from day one. The project is also aware that there are high expectations for HBP, not just scientifically but also in terms of innovation, program collaboration with others including Member States, outreach and education.
Let's congratulate them and wish them what I am sure will be an exciting journey.
Human Brain Project website:
http://www.humanbrainproject.eu/
About the Human Brain Project platforms
http://www.humanbrainproject.eu/discover/the-project/platforms
About the EU FET Flagship program
http://cordis.europa.eu/fp7/ict/programme/fet/flagship/