Mergers
Advanced form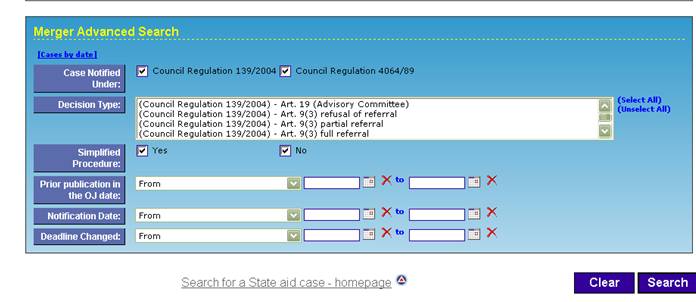 Web publication date
Merger cases appear on the web site once they have been notified. The provisional deadline are given according to the calculation pursuant to the Merger Regulation and the Implementing Regulation. Once the merger has been announced in the Official Journal, the publication notice is also available on the site.
The press release is available on the site once a merger case decision has been adopted and announced by the Commission.
The public version of decisions are made available as soon as publication is permitted -- usually several weeks after the adoption of the decision, because the parties have to agree on the deletion of business secrets from the text of the decision.
"Phase I" decisions

An announcement of a Phase I decision is published in the OJ in all Community languages; the full text of all final Phase I decisions (Art. 6(1)(a) and (b) EC Merger Regulation) is published on the DG COMP's website, but only in the original language in which the parties notified.

"Phase II" decisions

As of May 2004, a summary of final decisions of phase II investigations (Art. 8 EC Merger Regulation) is published in the OJ and therefore available in all Community languages. The translation requires additional time.

The Commission will continue to publish the full non-confidential text of final Phase II decisions on its website in English, French and German, as well as in the language of the proceeding if different from those three languages.
Case notified under ...
There are several types of merger cases: those dealt with under the Council Regulation (EC) No 139/2004 (in force since 1 May 2004), generally referred to as the EC Merger Regulation, those dealt with under the "old" Council Regulation (EEC) No 4064/89, as last amended by Council Regulation (EC) No 1310/97, and those dealt with under Article 66 of the former Treaty establishing the European Coal and Steel Community (ECSC Treaty).
Decision type
Simplified procedure
Prior publication in the OJ date
Notification date
Deadline changed