Europe for citizens Programme
Austria
FusionMaps.
Europe for Citizens Contact Point Austria
Federal Chancellerie of Austria
Culture Division
Department VI/6 EU Culture Policy
Concordiaplatz 2
A-1010 Vienna
Contact: Sanja Corkovic
E-Mail: sanja.corkovic@bka.gv.ateuropagestalten@bka.gv.at
Web: http://www.kunstkultur.bka.gv.atwww.europagestalten.at
Brochure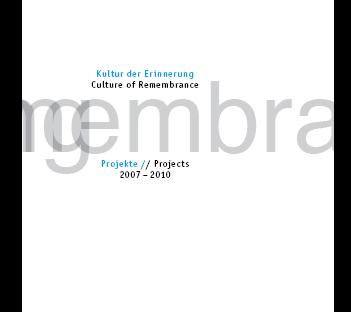 "Kultur der Erinnerung / Culture of Remembrance"




The publication "Kultur der Erinnerung / Culture of Remembrance"" presents exemplary Austrian projects that have been funded within Action 4 "Active European Remenbrance" of the EU-programme "Europe for Citizens" between 2007 and 2010. In the centre of the book you can find many projects in short project descriptions, with a personal comment by the project leaders and photographs. An interview with the contemporary historian Heidemarie Uhl on remembrance culture in Austria and Europa, and an essay by Stefan Musil on art-based memorial strategies complete complete this publication.