Youth on the Move in Romania
Some impressions, 28/09/2012
---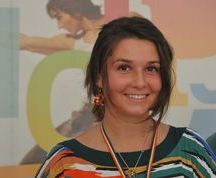 Close to the entrance of the tent some young people play drums, others are juggling and towards the stage opposite the tent a group of young people and adults are involved in a theatre play. In the tent groups of young people are doing art work, others are taking photographs with messages written on their arms or queuing up to answer questions on Europe and win a pen, a t-shirt or a USB-stick. It is a joyful atmosphere.
Among them is Daniela from Ramnicu Sarat, a small city in the South-East Romania. She informs about the "forum theatre" which is an interactive method to solve conflicts and overcome difficult situations. The participants pick a situation from reality and play it. There is no real audience since the spectators are part of the play and can become actors at any moment. The theatre play helps to understand the situation and find a solution. Daniela learned the method in a Youth in Action project which involved people from 14 different countries (among them Armenia, Azerbaijan, Russia, Croatia etc.). "It was an amazing experience with amazing people. It was a mixture of creativity, craziness and professionalism. It changed me and my life a lot. In a few weeks I will travel to Georgia to pass my experiences to the people there."
---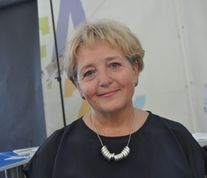 A few meters away from her sits Anna from Rucar on a high chair behind a bar-like table. She is member of the city council of Rucar and a teacher at the Technological High-School, teaching English. Anna coordinated a Comenius Regio project on improving the vocational training and local development together with partners from Setubal in Portugal.
The Romania and the Portuguese side brought together the city authorities, the local high school and the entrepreneurs association in order to improve the training of the students who to a traineeship in a company. "We learned from our Portuguese partners how to set up a database with all entrepreneurs in our region. This helped us to find more and better training placements for our students". The project mobilised the different partners. "We get now support from the city council which recently organised a fair to exhibit the different craft pieces produced by our students. This motivates the young people, increases their skills and contributes to local development." And what does Youth on the Move mean to Anna? "It is a very good idea. We always tend to think we are the best. But when working with others one can learn and improve", says Anna. The project was so successful that the partners decided to continue the cooperation.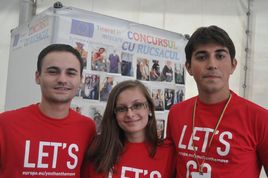 "Do you want to participate in the back-pack competition?", ask Dinu Laura and Horia, both from Bucharest, people who come to their stand.
They take pictures from peoples' back-packs and stick the photos on a wall. The back-packers who participate can win a prize through a lottery. Dinu Laura and Horia are volunteers wearing red t-shirts with the slogan "Let's go". Both are students. For Horia "Let's go" is not just a slogan, but real-life experience: he stayed as an Erasmus student for one year in Kortrijk in Belgium studying communication and PR. He intends to do his Master also abroad, maybe in the UK. Suddenly some guitar sound can be heard. On stage are the "Elephants bizarres" who start their songs. Temperatures have slightly come down but the "tropical city" continues to be on the move.