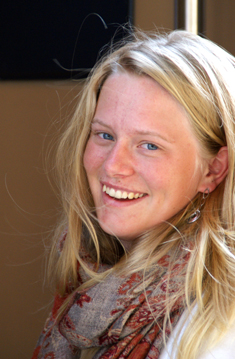 Statement
Travel is fun, exciting, and instructive. Smelling other types of culture leads to admiration, respect and generates new ideas. Travelling around is not merely a discovery trip but also a reflection about yourself, about your own life habits, your own customs and traditions. Happily, the desire and enthusiasm for travelling are not lacking amongst the Dutch youth. The generation that has grown up with open borders goes often beyond the sun/summer holidays and goes for hikes and citytrips. Studying, doing a traineeship or working abroad are also becoming more and more popular. Youth not only finds it fun but also very useful to stay abroad for a longer period.
Yet, there is still a big gap between thinking about crossing borders and actually doing it. Nevertheless, I am convinced that where there is a will there is a way. This way should simply be found. As the Dutch Youth on the Move Ambassador, I would like to bring my contribution and inform all young people about the numerous possibilities they can get. I am also sure that my experience abroad can help here. Inform, mobilize, participate, that's what it is all about and that is why I support the Youth on the Move initiative.
---
Reizen is leuk, enerverend, leerzaam. Verschillende culturen opsnuiven doet bewonderen, respecteren, nieuwe ideeën genereren. Rondtrekken is niet alleen een ontdekkingstocht naar het ander, maar ook een reflectie op jezelf; op je eigen gewoontes, gebruiken en rituelen. Gelukkig ontbreekt het niet aan reislust en enthousiasme bij de Nederlandse jeugd. De generatie die is opgegroeid met open grenzen, overschrijdt deze vaak letterlijk voor zonvakanties, hikes en stedentrips. Ook studeren, stage lopen of werken in het buitenland wordt steeds populairder. Jongeren zien niet alleen de lol, maar ook het nut van een langer verblijf in het buitenland in. Toch lijkt er nog een grote drempel te zitten tussen het overwegen om de grens over te steken en het daadwerkelijk gaan.
Niettemin ben ik ervan overtuigd dat waar een wil is, een weg is. Deze weg moet alleen wel gevonden worden. Graag wil ik als Nederlandse Youth on the Move Ambassadeur hier mijn steentje aan bijdragen en jongeren informeren over de talloze mogelijkheden. Ook ben ik er zeker van dat mijn eigen buitenlandervaring hier aan kan bijdragen. Informeren, mobiliseren, participeren; dat is waar het om draait en dat ik ook waarom ik het Youth on the Move project ondersteun.
---
Bio
Sandra Ronde was born in London, Canada on May 4th 1990. After high school, she finished her undergrad at the Roosevelt Academy in Middelburg, the Netherlands and the Vilnius University in Lithuania. With an essay about her Erasmus exchange experience in Vilnius, Sandra won the Dutch Leonardo prize. In her spare time, Sandra is actively involved in development work. Aged 17, she and three of her classmates wrote a business proposal for a development project. This project is currently still running in Ghana. A few years later, Sandra cycled 360 kilometres through Kenya in order to raise money and awareness for health care in Africa. Today, however, the Dutch student's main focus is to finish her Erasmus Mundus Master in Rural Development and Agriculture at the Ghent University, the University of Florida and the Humboldt University in Berlin.