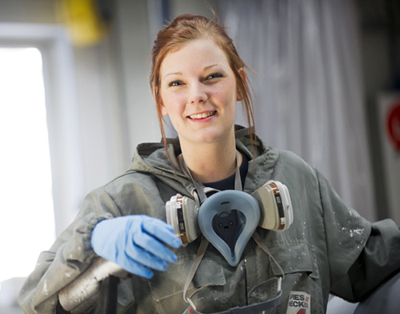 Statement
It's an honour to be the Swedish ambassador for the Youth on the Move program. I have spent most of my life in a small village in northern Sweden, far away from big cities. I did my share of travelling but not until I participated in my first European project, did I understand how important travelling really is, how much one can learn from different cultures and other people. The Paintwork@Europe project I participated in was aimed at car-painting schools from different countries in Europe.
The purpose was to increase the standard of learned technique and to adjust school programs to make them more alike in different countries. If car-painting school have similar education program, workshops and potential employers across Europe will have similar requirements. And that means that graduates from these schools will have a bigger chance to find jobs in different countries without having to go back to trade schools to obtain a certificate each time they move within the EU. The project really opened my eyes how important it is to learn from each other. We learn from good experiences to improve but we also share our mistakes so they are not repeated by others. That is the true importance of the Youth on the Move campaign. It gives young people the opportunity to travel, see new places, meet new people and get to know new cultures. I also think that, apart from learning new job skills and possible employment opportunities, it is the best experience any young person might get.
---
Bio
My name is Emelie Dammare. I'm a 19 years old and I work as a car-painter in Stockholm, Sweden. My passion is to work with my hands in different ways. I love to work with something that, depending on my inspiration, I can utterly change. When my work is done it looks completely different. I also like all kinds of machinery - especially cars. That is why I decided to get an education that combines my interests in automotive industry and art.
In my free time I like to work a lot with an airbrush. It is a small spraying gun that practically works in the same way as the one used for car painting but this particular type is used for painting motives. My hobby took me to different fairs all over Sweden, including Elmia - the biggest car fair in Scandinavia. In the summer of 2010 I was a part of a racing team as a mechanic. This experience was great fun but all it taught me how to work well as a team under pressure. Between 2009 and 2011 I participated in the Leonardo da Vinci project - Paintwork@Europe. The experience of European mobility and international cooperation helped me find employment at the workshop I work at today. My company paid for my further education in Denmark. I have also become the spokesperson for the Paintwork@Europe project and attended several meetings and conferences all over Sweden. In preparation for the Leonardo da Vinci project my two friends and I created a website. This website contained information for those who are interested in car-painting and want to know more about it. To gather as much valuable information as possible for this, we visited many different workshops and events all over Sweden and Denmark. A car-painting school in Denmark liked our work very much, so later we went there to make a movie about the school. At the moment I'm training to qualify for the Swedish championship for car-painters. If I succeed with that, I am planning to compete in the World Skills 2013.