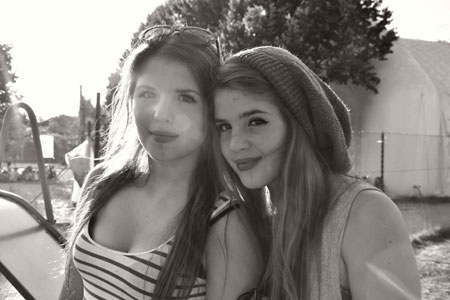 Statement
We are very excited to be Youth on the Move ambassadors, representing our country. It's always been our dream to help others and to inform people on how important knowledge and experiences are. Our goals are to study abroad, gain experiences and learn a lot about life, it's also our goal to spread the word about it. You can gain a lot of things by going abroad, and one of them is meeting new people, making connections and sharing your culture among others. We think that you also become very responsible and independent which makes you grow up to be a very exemplary adult for younger generations. Our opinion is that the youth is the pillar of the world. So it's very important to invest in the projects like this one, which provide better future for students. We also want to make youth from unstable social environments more aware that they have the same possibilities as others and that they are free to dream and make their dreams come true. We want to blur the line between wealthy and less wealthy people. We are glad and proud to be a part of such an amazing project. We salute everyone with great smile.
---
Zelo sva vznemirjeni, ker sva postali ambasadorki evropske pobude Mladi in mobilnost (Youth on the Move) in tako predstavljava svojo državo. Že od nekdaj sva sanjali, da bi lahko pomagali drugim in jih seznanjali s pomembnostjo izkušenj in znanja. Najin cilj je, da bi študirali v tujini, na ta način pridobili čim več izkušenj in se predvsem učili o življenju. Eden izmed najinih ciljev je tudi, da o tem ozaveščava druge ljudi. Meniva, da lahko s študijem v tujini veliko pridobiš, saj tako spoznavaš nove ljudi in bogatiš svojo kulturo z drugimi. Z odhodom v tujino postaneš bolj samostojen in odgovoren, kar ti pomaga, da dozoriš v vzorno odraslo osebo, ki daje zgled mlajšim generacijam. Svet stoji na mladih, zato je zelo pomembno investirati v projekte, kot je ta, ki mlade postavlja v središče pozornosti. Želiva ozavestiti tudi mlade iz socialno ogroženih okolij, ki ne vedo, da imajo enake možnosti izobraževanja kot ostali in da lahko sanjajo in uresničujejo svoje sanje. Radi bi zabrisali mejo med bogatimi in revnimi. Zelo sva veseli in ponosni, da sva del takšnega projekta. Vse pozdravljava z veliko dozo smeha.
---
---
Nika's and Eva's Bio
Nika and Eva Prusnik are two promising young singers from Slovenia. The twin sisters have been immersed in the arts from a young age. They joined a theatre group at the age of eight which allowed them to travel to many countries to attend theatre festivals, including one in Cuba. Nika went on to enjoy success with her Show Dance group for ten years. Her team won the National Championship in 2011 and the International Competition in 2010. They also won second place once and third place twice at the World Championship. Eva experienced similar success but with karate. She took part in competitions in Slovenia, Serbia and Croatia where won many medals, and in May 2010 she gained the title of Karate Master and received a black belt.
Nika and Eva's creativity extends to singing and acting. They won Slovenia's Mission Eurovision Competition in 2011, and since then have been performing on television and doing shows across Slovenia. They have also appeared as extras in a commercial and a movie and are eager to pursue both singing and acting as a career.