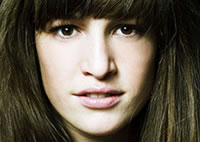 Statement
I believe in youth. In its energy, in its ability of changing and starting from scratch. I also believe that the world is an infinity of oportunities hidden behind the talent of each of us. And I also believe that to get to understand it, one needs a constant search – as if any man was a story that is drawn and erased and redrawn again. It seems to me that the journey, the encounter with different cultures and different colours, plays a main role in this drawing. Getting to know the world and to bring new ideas, wills and inspirations back leads us to the profound knowledge of ourselves, of our abilities and countless possibilities of future.
We have to believe because the future is us.
---
Acredito na juventude. Na sua energia, na sua capacidade de mudança e de recomeço. Acredito também que o mundo é uma infinidade de oportunidades que se escondem por detrás do talento de cada um de nós. E que para chegar ao seu entendimento é preciso uma constante busca - como se cada homem fosse uma história que se desenha e que se apaga e que depois se desenha de novo. Parece-me que a viagem, o encontro com diferentes culturas e diferentes cores, tem um papel fundamental neste desenho. Conhecer o mundo e trazer de volta novas ideias, vontades e inspirações, leva ao conhecimento profundo de nós mesmos, das nossas capacidades e das incalculáveis possibilidades do futuro.
Acreditar é preciso porque o futuro somos nós.
---
Bio
Carminho is a Portuguese Fado singer. For years Carminho sang in Mesa das Fraudes. Coming from a Fado family - her mother is the well known Teresa Siqueira - her first CD "Carminho" was a sensation; a perfectly delivered set of authentic poetic Fado, without a dull moment from start to finish. She has done traditional music with some of the best musicians around capturing the poetry and atmosphere of Lisbon. She is 27 years old and is indeed a very promising and inspired young lady. Her voice is strong evocative and certain and she has already earned a place at the high table of Fado.