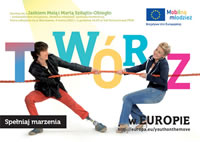 Statement
Foreign educational projects give us access to a broader culture, but above all they allow us to get to know some fascinating people.
Wherever I went, I really loved meeting new people. If you go abroad to study or work, you constantly meet people from all sorts of places.
You live at the interface between cultures.
---
Zagraniczne projekty edukacyjne daja nam dostep do szerszej kultury, ale przede wszystkim pozwalaja nam poznac fascynujacych ludzi.
Ja w podrózach zawsze najbardziej uwielbialem poznawac nowe osoby.
Wyjezdzajac na studia czy do pracy za granice, caly czas stykamy sie z ludzmi z przeróznych miejsc – zyjemy na styku kultur.
---
Bio
Jasiek Mela is a young Polish explorer born on December 30, 1988 in Gdańsk. He is the youngest person to have reached the North and the South Pole. During a thunderstorm in 2002 he was seriously injured and despite the doctors' efforts he lost two of his limbs. This accident however, did not discourage the boy from following his dream. Only 15 years old, in an expedition led by the Polish explorer Marek Kamiński, he reached the North Pole on April 24, 2004. After nine days of polar acclimatization in Spitsbergen, Norway, the team began their 70 km trek on April 4, and received no outside assistance relying solely on the supplies and equipment they could pull on sleds. Eight months later, Mela and Kamiński reached the South Pole in Antarctica on December 31, 2004 – a day after Mela's 16th birthday.