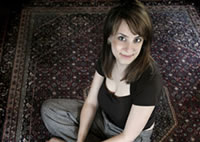 Statement
The future of the European Dream belongs to those who, today, are most affected by the current economic crisis: the youth.
Inspiring and concrete actions are therefore needed to makesure it keeps living and prospering.
The Youth on the Move campaign represents a bold – and much needed – step in creating tangible and accessible opportunities for all young people to grow professionally as much as personally.
By embracing mobility, youth will have the chance to open their minds, understand and promote diversity and actively contribute to shaping a more cohesive, integrated Europe where everyone has the chance to blossom and thrive.
This is why I am proud to serve as a Youth on the Move ambassador.
---
Il futuro del Sogno Europeo appartiene a coloro che, oggi, subiscono maggiormente gli effetti dell'attuale crisi economica: i giovani.
Per fare in modo che questo sogno possa continuare ad esistere, c'è bisogno di giusta ispirazione e di azioni concrete.
La campagna Youth on the Move rappresenta quindi un strumentounico e assolutamente necessario per la creazione di opportunitàtangibili e facilmente accessibili da ogni giovane, per cresceresia professionalmente che personalmente.
Abbracciando la mobilità, i giovani avranno la possibilità di allargare i propri orizzonti, promuovere la diversità e contribuire attivamente a creare un'Europa più coesa e integrata, dove ognuno ha la possibilità di sviluppareil proprio potenziale.
Per questo sono orgogliosa di essere un'ambasciatrice della campagna Youth on The Move.
---
Bio
Selene is the founder and chair of the Youth Action for Change, a non governmental organization. She has served with the UN, Amnesty International and AEGEE in various capacities supervising projects aimed at empowering young people in different areas. A contributor to the national and international publication of several works in the domain of youth inclusion and youth policy. Selene was also a supporter and organizer of many consultations on youth participation on behalf of UNESCO and the World Bank. A passionate supporter and participant in many youth campaigns until today. She holds a Degree in International Economics and Management from Università Bocconi (Italy), and is currently pursuing the NOHA Master in International Humanitarian Action in Ireland.