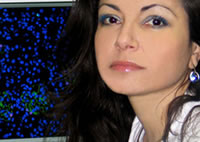 Statement
Youth is the time of questioning and curiosity. We feel we can becomeanything we would like to.
But few of us will really be so lucky to dowhat they truly love in their life. Being able to do what you want comesfrom a combination of will power, hard work and lucky circumstances.We can put the will and the hard work, but life should provide the lucky circumstances.
The "Youth on the move" project will help many young peopleto realize these lucky circumstances, even when life was not so generousto provide them.
That's why I strongly believe in this project. Improving youth's chancesto build their own future will enhance their intellectual independenceand creative thinking.
This represents the only possible way toward wellness and integrationin Europe and all over the world.
---
La gioventù è il periodo delle domande e delle curiosità. Ci sentiamo comese potessimo diventare tutto ciò che vogliamo.
Ma pochi di noi saranno veramentecosì fortunati da fare nella loro vita quello che amano profondamente.Per riuscire a fare ciò che si desidera sono necessarie una combinazione diforza di volontà, duro lavoro e circostanze fortunate. Noi possiamo mettercila volontà e il duro lavoro, ma è la vita a doverci fornire le circostanze fortunate.
Il progetto Youth on the Move intende creare queste circostanze fortunate per tutti i giovani con i quali la vita non è stata così generosa.
Ecco perché io credo fortemente in questo progetto. Aiutare i giovani a costruireil proprio futuro ne accrescerà l'indipendenza intellettuale e le capacità creative.
È questa l'unica strada percorribile verso il benessere e l'integrazione in Europaed in tutto il mondo
---
Bio
Paola Romagnani was born in Florence, Italy, in 1970. She graduated from the School of Medicine and Surgery, University of Florence in 1995 and obtained her PhD in 2001. In 1999, she won the Hoechst Marion Roussel Foundation Award for Best Young Italian Scientist for her studies on renal inflammation. From 2006 she is an Associate Professor of Nephrology and from 2009 the Chair of Nephrology and Director of the Specialty School of Nephrology of the University of Florence. In 2010, she was promoted the Head of the Nephrology and Dialysis Unit at the Meyer Children's Hospital, Florence. She has completed numerous studies that were published in some of the most important journals of experimental and medical research. She has identified stem cells in adult human kidneys and is now working on how to induce kidney regeneration to treat renal disorders. In 2008, she won the European Research Council Starting Grant Young Investigator Award for her studies on renal stem cells. From 2008 to 2011, she has also coordinated a Cooperative European Project of the FP7 Program.