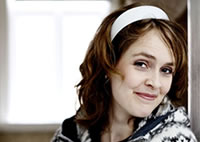 Statement
Honestly, I started my studies at University of Iceland, first and foremost to be able to become an Erasmus student. I wanted to study abroad, but since I was interested in literature, and not least Icelandic literature, I planned to start and finish my degree in my mothertongue, in my fatherland.
Like many young and adventure-seeking people I dreamed about living in another country, experiencing another culture and speaking another language. I spent a year in Paris, at the Sorbonne, and read french literature. But the education I got was in a great many other fields than literature: I could cook when I came back home, and had finally given up on the idea of sneaking into public transportation without paying.
I would do it the same way again and encourage young people to enjoy this possibility, which is a wonderful mixture of freedom and discipline, as I remember it.
---
Grínlaust, þá skráði ég mig í Háskóla Íslands í þeim tilgangi að geta sótt um styrk til að verða Erasmus nemandi. Mig langaði mikið að nema í útlöndum, en þar sem áhugi minn beindist að bókmenntum, ekki síst íslenskum, ákvað ég að hefja nám og ljúka því jafnframt í túninu heima.
Eins og margt ungt fólk, þyrsti mig í að upplifa ævintýri úti í hinum stóra heimi. Mig langaði að kynnast öðrum lífsháttum og tala annað tungumál. Ég var eitt skólaár í Svartaskóla í París og las franskar bókmenntir. En ég lærði ekki síður margt annað en bókmenntir á þessum tíma, tók til dæmis mitt fyrsta lán, því ljúft líf í París kostar eitthvað. Ég kunni að elda við heimkomuna og var endanlega búin að gefast upp á að svindla mér í almenningssamgöngur.
Ég mundi gera þetta nákvæmlega eins í dag, væri ég að hefja háskólanám. Í minningunni einkenndist þessi tími af endalausum átökum frelsis og sjálfsaga og ég hvet ungt fólk til að reyna það á eigin skinni.
---
Bio
Eva María Jónsdóttir was born on April 26, 1971 in Iceland. She has a remarkable list of higher education institutions in her biography including The Sorbonne, Université Catholique de Lyon and University of Iceland from which she holds a degree in Comparative literature. Since the early days of her student life, she has shown interest in the hosting of television and radio programmes, which through the years has become her passion. She hosted daily news broadcasts, talk shows and was also the screenwriter of a programme dealing with human behaviour and humour. In addition she shares interests in tourism, art and theatre shows.