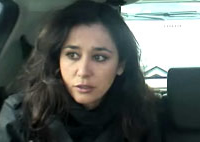 Statement
It is a great pleasure for me that I can be the Ambassador for Youth on the Move campaign in Hungary. I think that this campaign is extremely important because it is crucial to send the message to the youth that they have the opportunity to go to study in Europe at any time. Young people have vast amount of opportunities for work, several scholarships and we need to encourage them to exploit these opportunities.
Us, Hungarians, weren't even allowed to leave Hungary 30 years ago. Our generation has this option. We have been born into a free and peaceful Europe, where people are allowed to travel and have the possibility to get to know other cultures, other prospects. People should use these opportunities.
I live in between Budapest and Berlin. I work both in Berlin and in Hungary. It makes me very happy that I am able to do this. I would like to encourage all people, if they have this possibility to get to know other cultures or to work or study somewhere else, then they should do it because they have nothing to lose. For sure, this bonus opportunity has to be exploited.
---
Bio
Born in Budapest, Dorka Gryllus studied at the Hungarian University of Drama, Film and Television from 1994 to 1998. She made her film debut during her studies, playing the lead in András Sólyom's School of Senses (1995). In 1998 she joined the Csiky Gergely Theatre company, Kaposvár, where she played in classical works (Goldoni, Molière, Wedekind) and musicals ("My Fair Lady", "Cabaret"). In 2003 she was named "Best Actress" at the 48th Sterija's Plays, Novy Sad. Throughout this time she also played in several TV shows and a number of films, including Árpád Sopsits' Fly Trap and Miloslav Luther's Escape to Buda. She received a leading role in the TV movie "Kollaps" (2002). She won the "Best Actress Prize" for her performance in the Dallas Pashamende drama, followed by a number of awards proving her acting abilities at the 2007 Berlin International Film Festival.