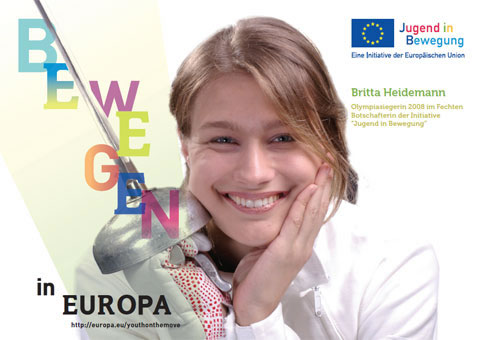 Statement
I would like to motivate young people to take charge of their own lives.
Good education and training are essential for this. In my view it is also important to be active outside school, in one's free time, in a work placement and of course in sport.
Finally, I would like to inspire young people to undertake voluntary work, training or studies abroad. I myself have learned what an enriching experience it is to live abroad, become acquainted with another culture and learn the language.
I firmly believe that this not only broadens the mind but also enhances employment opportunities.
---
Bio
Britta Heidemann is a German épée fencer, born on 22 December 1982 in Cologne. Britta had her biggest success during the 2008 Beijing Summer Olympics, when she defeated Ana Maria Brânză to win the gold medal just minutes after fellow countryman Benjamin Kleibrink won the men's individual foil competition. Prior to this, her biggest achievement was a gold medal at the 2007 World Championships in the individual competition. At the 2004 Summer Olympics she won the Silver Medal in the épée competition with her teammates, Claudia Bokel and Imke Duplitzer. During the 2006 World Fencing Championships she won the team bronze medal. She is currently a student in Cologne, Germany. She is a very bright and promising young person and besides her great sports career she is also an excellent student and speaks French, English, Chinese as well and a bit of Spanish.